The Occupational Safety and Health Administration (OSHA) recently cited Design Roofing LLC for failing to adequately protect their employees at residential construction sites in Scott Depot and Culloden, West Virginia. The administration has proposed fines of $101,988.
OSHA Finds Roofing Company Failing to Protect Employees
OHSA initially received complaints about Design Roofing LLC employees working without proper fall protection. Responding to those complaints, OSHA sent inspectors to the work sites. They found that the roofing contractor was violating several safety standards, and was subjecting the employees to unnecessary dangers.
OSHA issued willful violations for the fall hazards, as well as serious violations "for allowing employees to work within close proximity of an energized electrical conductor and improper use of an extension ladder."
OSHA Charleston Area Office Director Prentice Cline stated that falls are the leading cause of fatalities in construction, but noted that employers can reduce risks by complying with fall-protection requirements. "This employer's disregard of required safety procedures leave employees vulnerable to hazards that can cause serious or fatal injuries," he said.
According to their website, Design Roofing LLC has over 30 years of experience in commercial and residential roofing, and is one of the largest full-service roofing companies in West Virginia, South Eastern Ohio, and Eastern Kentucky.
Employers Responsible for Reducing Risk of Falls
According to the Centers for Disease Control and Prevention (CDC), falls remain the leading cause of work-related deaths in construction, accounting for about one-third of the total number of fatalities in the industry. Since 2013, fall deaths rose faster than overall deaths in construction. Nearly half of all deaths on construction sites occurred in companies with ten or fewer employees, or among those who were self-employed.
After analyzing data over a 33-year period, the Center for Construction Research and Training reported in 2018 that 42 percent of construction fatalities involved falls, and 54 percent of the workers killed had no access to a personal fall arrest system. Over 100 falls were from 30 feet or higher, and 20 percent of the deaths occurred in the victim's first two months on the job.
Employers are responsible for ensuring employees' safety, and are supposed to take the following steps to do that:
Provide guardrails and toe boards around every elevated open-sided platform, floor, and runway, as well as around dangerous machines and equipment.
Provide employees with safety harnesses, safety nets, stair railings, and hand railings as required.
Provide required protective equipment to workers.
Regularly train workers about job hazards.
OSHA continues to work to raise awareness of fall dangers. They advise employers when estimating a job's cost to include safety equipment, and to plan projects to ensure that they can be done safely.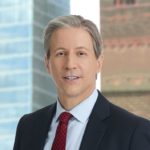 Exclusively focused on representing plaintiffs, especially in mass tort litigation, Eric Chaffin prides himself on providing unsurpassed professional legal services in pursuit of the specific goals of his clients and their families. Both his work and his cases have been featured in the national press, including on ABC's Good Morning America.