Workplace injuries are often preventable. According to the National Safety Council, each year, safety injuries at work result in unnecessary pain, suffering, and time off work. The most common workplace injuries include being struck by an object, overexertion, and falls.
The Occupational Safety and Health Administration (OSHA) recently reported that falls occur frequently among construction workers, but that they are among "the most easily preventable of hazards." Yet they keep happening. On November 29, 2015, for example, an employee of Ned Stevens Gutter Cleaning and General Contracting of Massachusetts suffered a serious fall and was injured.
OSHA Cites MA Company for Failing to Protect Workers
The employee was doing his job atop a roof in Newton, Massachusetts, when he fell and hit a lower roof 11 feet below, and then fell another 15 feet to the ground. An OSHA inspection revealed that the fall could have been prevented had the company employed the proper safeguards. The company allegedly also failed to ensure the use of protective equipment, and to guard two skylights that were additional fall hazards.
Because of these conditions, OSHA cited the company on April 25, 2016, for one repeated and one serious violation of workplace safety standards. Proposed fines total $45,000. This isn't the first time Ned Stevens has been cited, however.
Back in November 2015, the company was fined $108,200 after exposing workers to fall hazards. OSHA had conducted two separate inspections of two different work sites in May and October that year. They found a range of violations, including workers on the roof without fall protection. Similar citations were issued in 2013 and 2014.
Lisa Levy, director of OSHA's Hasbrouck Heights Area Office, stated that Ned Stevens had been cited previously for "allowing employees to work on roofs without fall protection." She added that the company should ensure a safe and healthful workplace, "or be prepared to be held legally responsible for failing to do so."
OSHA Works to Increase Awareness of Fall Hazards
Because falls are so common among construction workers, OSHA is taking steps to try to protect employees. Their "Fall Prevention Campaign" includes a nationwide outreach to raise awareness among both employees and employers about the hazards of falls, where they usually happen, and how they can be prevented.
Among their recommendations for employers:
Plan to have the necessary safety equipment and tools at the construction site ahead of time. Look for potential fall hazards, and take preventative action.
Provide fall protection and equipment, including the right kind of ladders, scaffolds, and safety gear.
Train employees on proper set-up and use of the safety equipment, hazard recognition, and safe use of all fall protection systems.
OSHA also started the National Fall Prevention Stand-Down, which took place May 2-6, 2016. The purpose, again, was to raise awareness that falls continue to be the leading cause of death for construction workers. As part of the campaign, employers were encouraged to talk to employees about safety.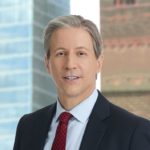 Exclusively focused on representing plaintiffs, especially in mass tort litigation, Eric Chaffin prides himself on providing unsurpassed professional legal services in pursuit of the specific goals of his clients and their families. Both his work and his cases have been featured in the national press, including on ABC's Good Morning America.