Western medicine can do miraculous things, but sometimes, an illness or serious health condition can't be fixed. While family members do all they can to make a loved one comfortable, it's a difficult time for everyone—a time when support and compassion are desperately needed.
Family Hospice and Palliative Care (FHPC) in Western Pennsylvania provides a complete continuum of care, from skilled nursing assistance to caregiver support and education. An independent, community-based hospice, they began in 1980, and today have a team of Board-certified palliative care physicians, certified nurse practitioners, and registered nurses, as well as licensed clinical social workers. A non-profit organization, they are guided by a board of volunteers from the communities they serve.
Chaffin Luhana LLP Associate John E. Lienert has reason to appreciate this organization and their work. When his uncle was unable to recover from a massive heart attack, they stepped in to help.
"The people of FHPC are compassionate and caring," Lienert says. "I have donated to this charity every year since 2009 for what they did to help my uncle and our family through such a tragic and difficult time. I had asked my uncle to be a groomsman in my wedding just two days prior to his heart attack. He was my best friend and my mentor. They are a first rate organization and any donation made to them is money well donated."
Chaffin Luhana LLP is pleased to send $250 in Lienert's name to the organization this year. If you would like to join them, you can make a donation via the information listed below. The organization also annually displays "Memorial Dove Trees" in several locations, including inpatient hospice centers. For a suggested donation of $30, a loved one's name is inscribed on a tag and placed around the neck of white doves that adorn holiday trees. This year, a new Veterans Tree will be displayed outside the Family Hospice Courtyard on Moffett Street.
Family Hospice & Palliative Care
50 Moffett Street
Pittsburgh, PA 15243
(412) 572-8800
Online donation: https://www.familyhospicepa.org/donate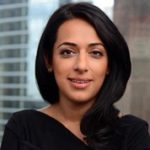 Exclusively focused on representing plaintiffs—especially in mass tort litigation—Roopal Luhana prides herself on providing unsurpassed professional legal services in pursuit of the specific goals of her clients and their families. While she handles complex cases nationwide on behalf of consumers, Ms. Luhana resides with her family in Brooklyn, New York.