When your child is sick, everything else in life fades into the background. Professional Tracy Quisenberry, once a Tax Director for Marriott International, came to know that feeling well. Her son was born prematurely, and continued to suffer from health problems throughout his first years of life.
Trying to maintain normalcy for her older daughter while caring for her sick son was extremely challenging for Tracy. She had to give up her job at Marriott to focus on her son's care. While spending her days at home, she started experimenting with creating homemade cakes for children's birthday parties. Watching the kids' faces light up at the sight of the cakes, she knew she was onto something.
Today, "Icing Smiles" is a nonprofit organization that provides custom celebration cakes and other treats to families impacted by the critical illness of a child. "Our goal," they state on their website, "is to create a custom cake for the ill child, or their sibling, that provides a temporary escape from worry and creates a positive memory during a difficult time."
Chaffin Luhana loves the idea behind this charity, and is happy to donate $250 in the name of team member and Staff Intake Coordinator RaeAnn Daly, who's been baking and donating cakes through the program for two years.
"I was inspired to donate my time and cakes after a four-day hospital stay with my son," Daly says, "who was only four months old at that time. While in the hospital, I saw numerous children who were so much sicker than Jameson. I saw one extra special cake come through the door and overheard the family talking to the baker, who was an Icing Smiles baker delivering a dream cake to a little boy who was celebrating his birthday for the last time. He was only six."
Daly saw the little boy's face change when he saw the cake: "For the minute it took for everyone to sing to him and him to enjoy the cake, he was happy, not thinking about his pain, and was a kid again. I immediately got online, signed up and do the same for other children."
If you would like to help make a child's day, you can donate to Icing Smiles via the information listed below. "I am truly honored to donate these cakes to families," Daly says. "Knowing that my hands can create something to be cherished in photos for years to come is truly rewarding."
Icing Smiles, Inc.
4725 Dorsey Hall Drive, Suite A-807
Ellicott City, MD 21042
(443) 420-7096
Donate online: https://icingsmiles.networkforgood.com/projects/21489-donate-now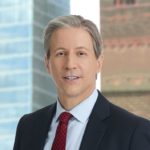 Exclusively focused on representing plaintiffs, especially in mass tort litigation, Eric Chaffin prides himself on providing unsurpassed professional legal services in pursuit of the specific goals of his clients and their families. Both his work and his cases have been featured in the national press, including on ABC's Good Morning America.