A recent semi-truck accident has resulted in a new lawsuit being filed in Madison County Circuit Court.
According to the Madison Record, plaintiffs Michelle Orf and Laura King, who are both residents of Missouri, filed the complaint on March 16, 2015. They claim truck driver David Rogers and Central Trucking Inc. of Indiana are liable for injuries they suffered when Rogers allegedly rear-ended their vehicle.
Missouri Women Accuse Truck Driver of Following Too Closely
In their complaint, Orf and King claim that they were riding as passengers in a vehicle on March 24, 2013 when Rogers, who was driving a tractor-trailer as part of his job with Central Trucking, rear-ended their vehicle, causing them to suffer serious injuries.
The plaintiffs allege that Rogers was driving too fast, following too closely, and failing to pay proper attention to his driving at the time of the accident. They seek in excess of $50,000 in damages to cover medical expenses.
Following Too Closely a Dangerous Factor in Truck Accidents
According to a 2007 study by the Federal Motor Carrier Safety Administration (FMCSA), "following too closely" was a factor in over 7,000 crashes between April 2001 and December 2003, and increased risk of a crash by 22.6 percent. An earlier summary report by the Highway Safety Information System identified "following improperly" as one of only four factors out of 94 that were more likely to occur in fatal car-truck crashes.
Whereas a car may be able to stop within about 150 feet, depending on speed and size, a large truck, especially when carrying a trailer, can take nearly twice as long and require nearly 300 feet. In many states, including Missouri, truck drivers are required by law to allow at least 300 feet between themselves and other vehicles when on highways, except when passing.
During Operation Safe Driver in Alabama in 2014, law enforcement officers pulled over nearly 60,000 commercial and passenger vehicles for violations. After reviewing the data, they found that the top five warnings and citations issued to commercial drivers were speeding, failure to use a safety belt, feature to obey traffic control devices, improper lane change, and following too closely.
Accidents Can be Deadly
If a truck is following too closely and cannot brake fast enough to avoid hitting the car in front of it, as was allegedly the case in for Orf and King, the results can be catastrophic. The sheer size of the big rig (about 80,000 pounds vs. 2,500 pounds) can cause massive damage and death, and if it is carrying hazardous materials, the potential fallout can be much worse.
The FMCSA suggests at least one second following distance for each 10 feet of vehicle length if the driver is going 40 miles per hour or less, with an additional second added at higher speeds. The National Highway Traffic Safety Administration (NHTSA) notes that following too closely is the second most frequent complaint concerning commercial drivers, after speeding.
Truck drivers may be guilty of tailgating because they are hurrying to get to their destinations. This is why the trucking company may share in the liability for an accident, if it is discovered that they were pushing the driver to make a speedy delivery, or if they made a mistake in hiring the driver by failing to properly examine his or her driving record.
Typical injuries resulting from an accident involving a truck following too closely may include:
• Facial trauma
• Head injuries
• Brain damage
• Whiplash
• Airbag injuries
• Concussions
• Seatbelt injuries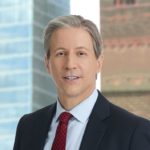 Exclusively focused on representing plaintiffs, especially in mass tort litigation, Eric Chaffin prides himself on providing unsurpassed professional legal services in pursuit of the specific goals of his clients and their families. Both his work and his cases have been featured in the national press, including on ABC's Good Morning America.