There is a shortage of men and women who have been properly licensed to drive a truck in Western Pennsylvania and across the nation.
According to an article in the Pittsburgh Tribune Review, stricter regulations and the desire to work locally have decreased the number of drivers with commercial licenses.
Many people choose to work close to home so they are not gone for days on the road without being able to see their families and friends. As far as regulations go, the U.S. Department of Transportation set the work week at 70 hours from 82, leaving companies scrambling to hire more drivers to cover the excess time.
Another big factor affecting the number of licensed truck drivers is the Marcellus shale drilling industry, which has increased the need for truck drivers and taken employees away from "traditional truck driving jobs."
According to CNBC, statistics from the American Trucking Association (ATA), there are about 30,000-35,000 unfilled truck driving jobs.
Safety & Accidents on the Road
Think about how many trucks are on the road everyday making deliveries. Then, think about the sheer weight and size of trucks compared to other motor vehicles on the road. It can be daunting to pass these types of trucks on the road, but both drivers need to work together to stay safe.
If you are a truck driver, make sure you are adhering to the hours you are able to work each week and get adequate rest to maintain alertness during your drive. Make sure to check all points around your truck, including blind spots for other motor vehicles. Obviously it is harder to see motor vehicles when you are driving a truck, but by taking precautions you can help prevent accidents.
For those who are driving a regular vehicle, you need to pay attention to where truck drivers are on the road. You can gauge when they are about to turn or may need extra space. Do not tail a truck driver or cut in front of them. These are two blind spots for truck drivers due to the size of the vehicle they are riding in.
Accidents involving trucks can be serious and sometimes fatal. A truck accident that recently got a lot of media attention involved actor and comedian Tracy Morgan. His limo bus was hit by a Walmart truck driver. Some reports have pointed to the truck driver's lack of sleep, and speed that may have led to the crash. Drivers can only work 14 hours a day, with 11 of those behind the wheel. They also have to have "at least" 10 hours between shifts to rest.
Unfortunately, truck drivers and regular motor vehicle drivers can take all the precautions, but still end up in an accident. Make sure you seek medical treatment immediately if you are injured. The most important thing is your health and safety following an accident. You also may be entitled to compensation. Hiring a personal injury attorney will alleviate some of the stress of dealing with the aftermath of a car accident and get you the help that you need.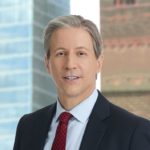 Exclusively focused on representing plaintiffs, especially in mass tort litigation, Eric Chaffin prides himself on providing unsurpassed professional legal services in pursuit of the specific goals of his clients and their families. Both his work and his cases have been featured in the national press, including on ABC's Good Morning America.