Though we may often think of the driver as the liable party when it comes to large truck accidents, there are often a number of other parties that may share in the responsibility for any injuries that may have occurred. It's important to determine every one, as that increases the plaintiff's chances of recovering enough in damages to cover medical and other expenses.
Primary among these is the transportation company that the driver was working for. Employers are typically vicariously liable for any accidents caused by their employees while they are working within the scope of their employment. In addition, it may be determined that the company was negligent in some ways, such as failing to review the driver's background, failing to properly train the driver, or encouraging the driver to work excess hours.
Two Ladies Injured in Trucking Accident, West Virginia
There is a recent example of a contracting company that was named as a defendant in two trucking accident lawsuits. Both lawsuits arose from the same accident, which took place in Putnam County, Virginia.
According to the West Virginia Record, driver William Russell Scudder was operating a 2004 Freightliner truck controlled by Murphy Transportation on April 23, 2014, when he rear-ended a 2012 Toyota Prius driven by Doris Harrison. Passenger Terri McClanahan was in the vehicle as well. The two were traveling north on W. Va. 35 in Pliny, according to court documents. Both suffered serious injuries.
The plaintiffs claim that Scudder was negligent and driving in a reckless manner, and seek compensation from both him and the company he was working for. The truck accident lawsuits were filed in the Putnam Circuit Court.
Employer Most Always Shares in Responsibility for Trucking Accidents
Trucking accidents can be particularly devastating for occupants of passenger vehicles, simply because of the great difference in size and weight. Usually, the driver who caused the accident will be held accountable, but the employer often shares in responsibility simply because the driver was working for them at the time of the accident.
To prove that an employer may be liable as well, plaintiffs usually have to prove that the driver acted negligently while in the scope of his/her employment, and that a master-servant relationship existed.
Some trucking companies have tried to get around the master-servant issue by hiring contractors—truckers who have their own vehicles—and then stating that there is no employer-employee relationship. But current federal law has ended this argument. Trucking companies are now responsible for all accidents involving those trucks that carry their placards or brand names on their vehicles. The driver's employment status generally no longer makes a difference.
Parties Potentially Liable in a Trucking Accident
Other parties that may share in responsibility for an accident may include the following:
The manufacturer of faulty equipment, such as the brakes or tires
The loading company, if the load was not properly placed in the truck, or if it's determined that an overload was a factor in the accident.
The truck's insurance company.
The construction company, if there were inadequate signs and safety signals at the construction site that were a factor in the trucking accident.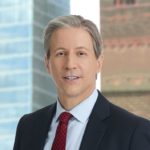 Exclusively focused on representing plaintiffs, especially in mass tort litigation, Eric Chaffin prides himself on providing unsurpassed professional legal services in pursuit of the specific goals of his clients and their families. Both his work and his cases have been featured in the national press, including on ABC's Good Morning America.