In July 2018, a Texas jury awarded about $101 million to a man who suffered injuries after a crash with an 18-wheeler. The jury found the truck driver to be 70 percent at fault and the company he was driving for—Frac Tech Services International (FTS)—30 percent responsible, but they also calculated that FTS' negligence necessitated a $75 million payout.
If you were in a crash with an 18-wheeler, how can you increase your odds that you will get what you need to pay for your medical expenses, lost wages, and other losses?
What to Do After An Accident with an 18-Wheeler
The Federal Motor Carrier Safety Administration (FMCSA) reports that in 2016, over 4,000 large trucks were involved in fatal crashes, and over 55,000 were involved in crashes resulting in injuries. If you were one of those unfortunate enough to get into one of these crashes, or if you had a loved one affected by one, you may want to consider filing a trucking accident lawsuit.
Your chances of winning your case go up if you have evidence to back up your claims. If you are able, take pictures and/or videos of your vehicle damage and the accident site, paying attention to details like skid marks, landmarks, road signs, and road conditions. While the memory is still fresh, make an audio recording of everything that happened on your cell phone, or write it down wherever you can.
Then, it is important to be careful what you say. Don't admit to being at fault because fault may not yet be clear, and that can affect your case later. Do not reveal anything to your insurance company before you have time to consult with a truck accident attorney. Make sure you see the doctor after the accident even if you think you're okay, as injuries can develop later, and those medical records will be important to your case.
Josh Patterson, for example, the victim in the crash mentioned above, told emergency responders that he was okay after the crash, and he continued on with his journey. But he suffered from symptoms later and had to undergo extensive medical procedures and surgery on the disks in his neck. Some injuries take time to show up. After the surgery, Patterson was no longer able to perform his job as a crane operator.
Evidence Shows Trucking Company Partially Liable for Accident
Once you hand your case over to a truck accident attorney, he or she will work to gather more evidence to support your case. In Patterson's lawsuit, for example, his attorneys presented evidence showing that the other driver and the driver's employer were liable for damages. They found, for example, that the driver had marijuana and methamphetamines in his system at the time of the crash. They also stated that FTS knew about policies that should have prevented them from hiring that driver, yet they hired him anyway. Specifically, the company's own policy prohibits the hiring of drivers with three or more moving violation convictions within a 36-month period, yet the driver had three violations within that very period prior to applying with FTS. At the time of the accident, he was also on probation with FTS for past driving performance problems.
With an attorney working with you, you have a better chance of gathering the evidence you need to improve your odds of gaining compensation in an 18-wheeler accident lawsuit.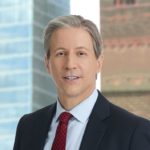 Exclusively focused on representing plaintiffs, especially in mass tort litigation, Eric Chaffin prides himself on providing unsurpassed professional legal services in pursuit of the specific goals of his clients and their families. Both his work and his cases have been featured in the national press, including on ABC's Good Morning America.