The Federal Motor Carrier Safety Administration (FMCSA), states that in 2015—the last year for which data are available—4,311 large trucks and buses were involved in fatal crashes. This was an 8 percent increase over 2014, and a 26 percent increase from the low of 3,432 fatal crashes in 2009.
No driver wants to think about getting hit by a big rig. The legal weight for one of these vehicles is 80,000 pounds (40 tons), compared to the typical 5,000 pounds for an automobile.
That means that if you're hit, the vehicle and the people in it can suffer dramatically. Common injuries include:
Traumatic brain injuries (TBIs)
Spinal cord injuries
Paralysis
Amputations
Disfigurement
Burns
Death
If you or a loved one was in a crash with an 18-wheeler, it's important that you take certain steps to protect yourself. We recommend the following four precautions.
4 Ways to Protect Yourself After a Crash with an 18-Wheeler
1) Seek Medical Attention: The first thing you should always do in any accident or crash, of course, is to take care of yourself. If you or anyone else was injured, it's best to get medical attention immediately. Even if you weren't seriously hurt, see a medical professional. You could have suffered from injuries that will take time to show up (whiplash, for example, or other types of bodily damage). If you fail to get medical attention, it could hurt your case should you seek compensation in the future.
2) Get the Facts Down: If you're well enough at the time of the crash, record all of the facts you possibly can. (If you're not well enough, call a family member or friend to come document the information for you. If you had passengers in the vehicle, ask them, as well, to jot down all pertinent information.) Get pictures of the vehicles and the damage and of your injuries.
Also, take pictures of the area in which the accident occurred, including relevant road signs, tire marks, broken glass, etc. Note the time of the accident, where you were going, and what you think happened. Include weather conditions, the speed you were going, and anything else that you believe was a factor in the incident. If there were witnesses, get their names and contact information if possible.
3) Ask the Truck Driver Questions: If the truck driver wasn't seriously hurt and talks to you after the accident, try to ask some important questions. Examples include:
What company do you work for?
Are you an independent contractor?
What was your cargo?
Where were you going?
How many hours have you worked today/this week?
Can I have your commercial driver's license number?
All of this will be important information should you decide to file a personal injury lawsuit, later. If you cannot talk to the driver, or if he (or she) is uncooperative, ask the police to question him instead. Officers are supposed to ask these types of questions at an accident site, but sometimes mistakes are made.
4) Hire an 18-Wheeler Accident Attorney: If you believe the crash was not your fault, an 18-wheeler accident attorney can help make sure that you receive the compensation you deserve. Major trucking companies are used to dealing with accidents and insurance companies, and are much better prepared to defend themselves than you, the individual, is.
You need an attorney who has the experience to block an insurance company's attempt to settle with you for less than your claim is worth. A legal investigation can also help turn up additional evidence that may help you in your case, including the company's safety history and maintenance record, the driver's driving record, and any recalls or other notices of defects related to the driver's equipment.
An accident with a big truck is stressful enough—an experienced attorney can take the stress of dealing with it away so you can focus on your recovery.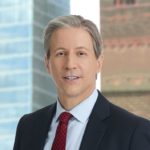 Exclusively focused on representing plaintiffs, especially in mass tort litigation, Eric Chaffin prides himself on providing unsurpassed professional legal services in pursuit of the specific goals of his clients and their families. Both his work and his cases have been featured in the national press, including on ABC's Good Morning America.