The United States Consumer Product Safety Commission (CPSC) recently announced the recall of 2 million MamaRoo swings and 220,000 RockaRoo rockers in the U.S., along with 60,000 MamaRoo and 10,000 RockaRoo sold in Canada.
Parents should immediately stop using these products and keep them out of reach of crawling infants. The manufacturer is offering a free fix for the problem.
Restraint Straps on Swings Can Pose a Strangulation Hazard
The MamaRoo is a baby swing that offers multiple motions and speeds. The RockaRoo is a baby rocker with front-to-back gliding motion. The swings and rockers were sold at BuyBuy Baby and Target stores nationwide and online at 4moms.com and Amazon from January 2010 through August 2020 for between $160 and $250.
The products affected by the recall include:
4moms MamaRoo Baby Swing, versions 1.0 and 2.0 (model number 4M-005)
MamaRoo Baby Swing version 3.0 (model number 1026)
MamaRoo Baby wing version 4.0 (model number 1037)
RockaRoo Baby Rockers (model number 4M-012)
Consumers can find the model number at the bottom of the units. The MamaRoo recall includes only those models with a 3-point harness. The ones that use a 5-point harness are not included.
When the swing or rocker is not in use, the restraint straps can dangle below the seat. Non-occupant crawling infants can become entangled in the straps, posing a strangulation hazard.
The manufacturer—Thorley Industries, LLC, d.b.a. 4moms of Pittsburgh, Pennsylvania— voluntarily recalled these products after receiving two reports of infant injuries. The first involved a 10-month-old infant who became caught in the strap under the MamaRoo infant swing after crawling under the seat. That infant died of asphyxiation.
The second involved another 10-month-old infant who suffered bruising to his neck before being rescued by a caregiver. No incidents involving the RockaRoo have been reported.
Manufacturer Providing Free Strap Fastener to Make Products Safer
Consumers with infants who can crawl should immediately stop using these products and place them in an area where crawling infants can not get to them. 4moms will provide a free strap fastener that will prevent the straps from extending under the swing when not in use.
To get your free strap fastener, call 4moms at 877-870-7390 from 8:00 a.m. to 5:00 p.m. ET Monday through Friday, email them at safetyandrecall@4moms.com, or check their online recall site. 4moms is also contacting all known purchasers directly to make them aware of this recall and the available remedy.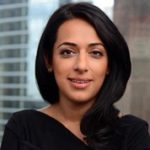 Exclusively focused on representing plaintiffs—especially in mass tort litigation—Roopal Luhana prides herself on providing unsurpassed professional legal services in pursuit of the specific goals of her clients and their families. While she handles complex cases nationwide on behalf of consumers, Ms. Luhana resides with her family in Brooklyn, New York.