A Missouri couple recently filed a new paraquat lawsuit in the U.S. District Court for the Southern District of Illinois. One of them suffers from Parkinson's disease (PD), which he blames on his exposure to paraquat, a popular herbicide.
Plaintiff Used Paraquat on Farms for Years
According to the complaint, the plaintiff states he was repeatedly exposed to and inhaled, ingested, or absorbed paraquat in the state of Missouri while working on farms as a licensed chemical applicator from 1974 to 2016. Specifically, he handled, mixed, and applied paraquat using a tractor.
He claims that as a direct result of his exposure to paraquat, he began suffering from symptoms associated with PD and was diagnosed with the disease in 2021. Prior to this time, he had never read or heard of any publications associating paraquat with PD. No doctor or other person warned him that his exposure to the herbicide might increase his risk of PD, either.
Plaintiff Claims Defendants Failed to Warn About Paraquat Risks
Paraquat has been used in the U.S. since the 1960s to kill broadleaf weeds and grasses before the planting and emergence of more than 100 field, fruit, vegetable, and plantation crops, to control weeds in orchards, and to desiccate (dry) plants before harvest.
Applicators may be exposed to paraquat when mixing or applying it if it spills, splashes, or leaks, and because of spray drift, when the wind carries herbicide spray droplets from the target area to an area where application was not intended.
The plaintiff claims that paraquat manufacturers must have known people could be exposed to paraquat in this manner, but that they did not do enough to protect applicators or the public.
Paraquat Damages Dopaminergic Neurons Targeted in PD
One of the primary hallmarks of PD is the degeneration and death of dopaminergic neurons (dopamine-producing nerve cells) in the brain. When enough of these neurons die, they are not replaced, and dopamine production falls below the level the brain requires for proper motor function. This is what causes the motor symptoms of PD.
Paraquat injures and kills plants by creating oxidative stress that causes or contributes to the degeneration and death of plant cells. It does the same to human cells, particularly to dopaminergic neurons. Indeed, scientific research has found that paraquat is a strong oxidant that interferes with the function of, damages, and ultimately kills dopaminergic neurons via oxidative stress.
So effective is it at this job that paraquat is one of the agents scientists use in the laboratory to recreate the symptoms of PD in animal models.
The plaintiffs claim that the defendants knew all this, yet failed to provide adequate warnings noting that when inhaled, ingested, or absorbed, paraquat could cause latent neurological damage both cumulative and permanent. They add that the defendants also should have warned that related exposures were "likely to cause or contribute to cause clinically significant neurodegenerative disease, including PD, to develop long after exposure."
The plaintiffs bring counts of design defect, failure to warn, violation of Missouri's merchandising practices act, negligence, and breach of warranties, and his wife brings one count of loss of consortium. They seek actual and punitive damages.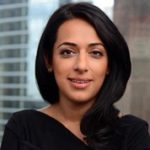 Exclusively focused on representing plaintiffs—especially in mass tort litigation—Roopal Luhana prides herself on providing unsurpassed professional legal services in pursuit of the specific goals of her clients and their families. While she handles complex cases nationwide on behalf of consumers, Ms. Luhana resides with her family in Brooklyn, New York.