The Akron Children's Hospital in Akron, Ohio, is one of the largest pediatric hospitals in the country, and one of the best, according to the U.S. News and World Report. The staff handles nearly 800,000 patient visits per year, offering primary and specialty care. The facility also trains new generations of pediatricians, specialists, and nurses every year.
The Carroll County Reserve Deputies decided to run their first annual toy drive for the kids at Akron Children's Hospital this year because of a special boy named Tommy Domotor. After losing both his mother and father to tragic circumstances, Tommy and his two siblings were cared for by their Aunt Rose. Unfortunately, Tommy was diagnosed with a rare form of brain cancer in 2015. He miraculously survived the diagnosis for nearly a year, and touched many lives, including that of the young son of County Sheriff Dale Williams.
The deputies are now collecting new toy donations to donate to the hospital throughout the holiday season. Interested contributors can drop off toys 24/7 in the lobby of the Sherriff's Department.
Chaffin Luhana is honored to help with the effort by donating $250 to the toy drive in the name of team member and First Contact Manager Staci Aria. She used to work for the County Sheriff's Office and the first responders remain very dear to her heart.
"This drive is also very personal for me," she says, "because my daughter was treated at this amazing hospital. The EMTs, nurses, doctors, and surgeons were so comforting to my daughter and our family during this very scary time. It takes a special person to work as a first responder as well as in pediatric care and the world is certainly a better place because of them."
If you would like to help support the toy drive and help a child this year, you can make a donation via the information listed below:
Carroll County Sheriff's Office
43 2nd St SE
Carrolton, OH 44615
(330) 627-2141
Attn: Deputy Edward Hale *Checks should be made payable to Akron Children's Hospital.
Donation guidelines and toy restrictions: https://www.akronchildrens.org/cms/patient-wish-lists/index.html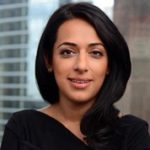 Exclusively focused on representing plaintiffs—especially in mass tort litigation—Roopal Luhana prides herself on providing unsurpassed professional legal services in pursuit of the specific goals of her clients and their families. While she handles complex cases nationwide on behalf of consumers, Ms. Luhana resides with her family in Brooklyn, New York.