If you've walked around Pittsburgh lately, you probably had a stray dog or cat cross your path. Every year, thousands of animals do their best to get by on their own, because they don't have a home or a family to take care of them.
Back in 1943, the problem was even worse. Soldiers who went off to war often had to leave their pets behind. A small group of Pittsburgh citizens came together to try to find homes for these pets. After the war was over, the problem persisted, so the group opened a shelter and incorporated. Today, that group is called "Animal Friends," and in 2006, they opened a brand new 30,000 square-foot companion animal resource center complete with creative kenneling for homeless pets, a veterinary clinic, classroom, pet therapy suite, resource library and more.
"Animal Friends works to place animals in safe homes until they can find them a permanent home," says Chaffin Luhana team member and Medical Records Specialist Raelyn LeMunyon. "Their mission as a no-kill shelter is to provide affordable health services and resources to pets and owners that are in need by targeting communities in the area that do not have as much support."
An animal lover herself, LeMunyon recommended Animal Friends for Chaffin Luhana's holiday charity drive. "Throughout my childhood and into my adult years I have always had multiple pets to love and nurture," she says. "It is a great feeling to come home at the end of a work day and have a four-legged friend anxiously awaiting your arrival. While I cannot help every animal, I love advocating for an animal that cannot speak for itself."
Chaffin Luhana LLP is happy to donate $250 to Animal Friends in LeMunyon's name. If you would like to join them, you can make a donation via the information listed below:
Animal Friends
562 Camp Horne Road
Pittsburgh, PA 15237
(412) 847-7051
Attn: Bill & Charlotte Cook
Online donation: https://www.kintera.org/site/c.elKWIeOUIhJ6H/b.9341241/k.2AEF/Donate_Now/apps/ka/sd/donor.asp?c=elKWIeOUIhJ6H&b=9341241&en=9sKHKUPzF8JQJ4PCL7KNK0MMLsJUL0NJJiIOLZNHIiIWL5MOIwG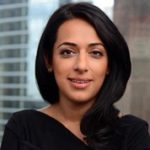 Exclusively focused on representing plaintiffs—especially in mass tort litigation—Roopal Luhana prides herself on providing unsurpassed professional legal services in pursuit of the specific goals of her clients and their families. While she handles complex cases nationwide on behalf of consumers, Ms. Luhana resides with her family in Brooklyn, New York.