As of September 2014, there are about 2.7 million American veterans who served in the Iraq and Afghanistan wars. According to a study completed by the RAND Corporation, at least 20 percent of these vets suffer from posttraumatic stress disorder (PTSD) and/or depression. Only half of those seek help, and even then, only half again receive "minimally adequate" treatment.
Many vets experience symptoms like nightmares, sleeplessness, anger and irritability, emotional numbness, and difficulty concentrating. They also may feel that they have to be constantly on guard. Medications and counseling are usually prescribed, but sometimes the best help comes in the form of a four-legged, furry friend.
Puppies Behind Bars (PBB), a non-profit organization located in New York, knows that all too well. Founded in 1997, they have trained guide dogs for years, but in 2006, they started a new service dog program to help combat vets returning home from Iraq and Afghanistan. Working with prison inmates to raise and train Labrador Retriever and Golden Retriever puppies, they invest significant money and time into each dog, and then donate it to a vet in need. So far, they've raised and trained nearly 100 service dogs.
Inspired by this organization's dedication to helping not only vets, but prison inmates as well, Chaffin Luhana is donating $250 in the name of team member and Case Management Records Specialist Rene Grier. Grier and her son, who served in the military, have a friend who suffers from PTSD. That friend's dog's name is "Trooper," and he was raised and trained by PBB volunteers.
"He says that he doesn't know where he would be in life right now without Trooper," Grier says. "The difference that dog makes in his life is incredible."
If you would like to help support PBB's efforts to help both prison inmates and American Vets, you can make a donation via the information listed below:
Puppies Behind Bars (PBB)
263 West 38th Street, 4th Floor
New York, NY 10018
(212) 680-9562
Email: programs@puppiesbehindbars.com (Put "dog tags" in the subject line.)
Donate online: http://www.puppiesbehindbars.com/support-us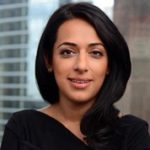 Exclusively focused on representing plaintiffs—especially in mass tort litigation—Roopal Luhana prides herself on providing unsurpassed professional legal services in pursuit of the specific goals of her clients and their families. While she handles complex cases nationwide on behalf of consumers, Ms. Luhana resides with her family in Brooklyn, New York.