Military service often runs in families. Surveys suggest that as many as 80 percent of those who serve come from a family in which a parent or sibling is also in the military.
Such is the case for Chaffin Luhana LLP Medical Records Specialist Samantha Ventolieri. Her grandfather was in the Army as a soldier in the 5th Armored division, and was only 17 when he ran onto the beach to invade the shores of Normandy at the start of WWII. Before leaving his tour in Germany, he was also one of the soldiers who opened a gate and greeted prisoners at a concentration camp.
"My father is also a veteran of the Army," she says, "as a truck driver for tanks and an electrician. He didn't see any combat, but he served."
Ventolieri continues the family tradition by serving as a reservist for the Navy, and has a lot of friends who have served or who are currently serving. "There is no amount of thanks for the sacrifice the brave military members give to this country," she says, "and for that, I'd like to give back."
Chaffin Luhana LLP is proud to donate $250 this year in Ventolieri's name to the Wounded Warrior Project (WWP). They provide free programs and services focused on the physical, mental, and long-term financial well being of injured vets, their families and caregivers. The organization also works to raise awareness of the challenges injured vets face, and to enlist the public's aid in serving their needs.
The WWP states that for every U.S. soldier killed in Operation Iraqi Freedom and Operation Enduring Freedom, seven are wounded. In addition to physical wounds, it is estimated that about 400,000 service members live with invisible wounds of war including combat-related stress, major depression, and post-traumatic stress disorder.
If you'd like to help support a wounded veteran, you can donate via the information below.
Wounded Warrior Project
370 7th Ave, Suite 1802
New York, NY 10001
(212) 629-8881
Online donation: https://support.woundedwarriorproject.org/default.aspx?tsid=7792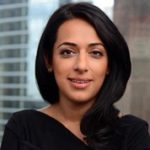 Exclusively focused on representing plaintiffs—especially in mass tort litigation—Roopal Luhana prides herself on providing unsurpassed professional legal services in pursuit of the specific goals of her clients and their families. While she handles complex cases nationwide on behalf of consumers, Ms. Luhana resides with her family in Brooklyn, New York.