According to the ASPCA, about 7.6 million animals enter animal shelters nationwide every year, and about 2.7 million have to be euthanized because there are no homes for them. Dogs are the most likely pets to be abused. Based on the over 1,400 cruelty cases reported on pet-abuse.com in 2011, just over 70 percent involved dogs.
A Hookstown, Pennsylvania charity is trying to change that. "Two Ladies Four Paws Rescue" works to rescue and find homes for abandoned and abused pets, as well as to help educate the public on important topics like pet sterilization and responsible pet ownership.
"We believe it is our moral responsibility to protect and improve the lives of abused, abandoned, and homeless dogs," the organization states on their website, "and to place them in loving, permanent homes."
Chaffin Luhana is pleased to donate $250 to Two Ladies Four Paws Rescue in the name of team member and paralegal/case manager Cindy Graham. Cindy notes that over the past year the organization has rescued so many dogs, all out of a pure love for animals.
"I recently started fostering one myself," she says, "a 10-month-old Great Dane named Izzy. When the girls went in to pick the dogs up, she was locked in a room with another Dane of the same age. They were both taken to the vet immediately, and were found to be about 60 pounds underweight. I am happy to report that she is now doing great. I have since decided to adopt Izzy and make her a permanent part of my family."
Cindy adds that the organization covers all vet care, emergency and routine, and makes sure that each dog is spayed and neutered and has their appropriate shots. "They are saving a lot of dogs," she says, "and surviving on only donations."
If you'd also like to help Two Ladies Four Paws to find more homes for needy pets, you can make a donation via the information listed below. The organization is happy to accept a monetary donation, and also has a wish list for items needed to make the dogs comfortable.
Two Ladies Four Paws Rescue Hookstown, Pennsylvania
(724) 630-7440 Email: twoladiesfourpaws@gmail.com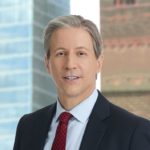 Exclusively focused on representing plaintiffs, especially in mass tort litigation, Eric Chaffin prides himself on providing unsurpassed professional legal services in pursuit of the specific goals of his clients and their families. Both his work and his cases have been featured in the national press, including on ABC's Good Morning America.