An Illinois man and his wife have filed a new Paraquat lawsuit in the U.S. District Court for the Southern District of Illinois. Paraquat is an active ingredient in herbicide products sold in the United States and used in agricultural settings to kill weeds and protect crops. The plaintiff claims he used the products regularly and frequently for many years, and now suffers from Parkinson's disease (PD), which he blames on the herbicide.
Plaintiff Blames Paraquat for his Parkinson's Disease Diagnosis
Paraquat products have been used in the United States to kill broadleaf weeds and grasses before planting crops, to control weeds in orchards, and to desiccate (dry) plants before harvest.
The defendants in this case—Syngenta and Chevron—manufactured and sold paraquat products to end-users in the form of liquid concentrates that were then diluted with water in the tank of a sprayer and applied by spraying the diluted product on target weeds. The products could also be applied with aircraft (crop dusters), trucks with attached pressurized tanks, and tractor-drawn pressurized tanks.
Parkinson's disease (PD) is a progressive neurodegenerative disorder of the brain that affects primarily the motor system, the part of the central nervous system that controls movement. Symptoms may include tremors, stiffness, and slow movements, as well as soft and slurred speech, balance problems, and loss of automatic movements like blinking or smiling.
There is no cure for PD, and it is a progressive disease that gradually gets worse. Some treatments can help slow its progression and manage symptoms. The plaintiff points to evidence linking the use of paraquat to an increased risk of PD.
Plaintiff Exposed to Paraquat on the Farm for Years
The plaintiff states in his complaint that he helped his family farm alfalfa, corn, soybeans, and wheat from the late 1960s through the late 1970s or 1980. About four times a year during that time, he was nearby when paraquat products were sprayed and in fields after they were sprayed.
Then while employed by Standard Oil of Indiana/Amoco from 1972 through 1976, he also mixed, loaded, and used a spreader truck to spray paraquat products for farmers, doing this work almost every day between June and August and less frequently in May. He was diagnosed with PD in 2008 at 56 years of age.
He argues that the herbicide's high toxicity "creates a substantial risk of harm to persons exposed to paraquat…" The same properties that make the herbicide highly toxic to plant and animal cells make it highly toxic to nerve cells, including the neurons in the brain affected by PD.
Parkinson's research is often performed using animal models, in which scientists artificially produce PD symptoms in animal subjects. Paraquat is, in fact, one of a handful of toxins scientists use in the lab to produce animal models of PD. In those studies, paraquat has been found to cause the degeneration and death of dopaminergic neurons, in ways consistent with that seen in human PD.
The plaintiff adds that many epidemiological studies as well have found an association between paraquat exposure and PD, "including multiple studies finding a two- to five-fold or greater increase in the risk of Parkinson's disease in populations with occupational exposure to paraquat compared to populations without such exposure."
The plaintiff states that the defendants did not provide adequate directions for the use of paraquat or proper warnings about the herbicide's risks. He brings counts of design and manufacturing defect, failure to warn, negligence, public nuisance, breach of warranties, and more, and seeks compensatory and punitive damages.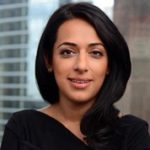 Exclusively focused on representing plaintiffs—especially in mass tort litigation—Roopal Luhana prides herself on providing unsurpassed professional legal services in pursuit of the specific goals of her clients and their families. While she handles complex cases nationwide on behalf of consumers, Ms. Luhana resides with her family in Brooklyn, New York.