Ford Motor Co. has recently initiated two recalls impacting nearly three million vehicles for door latch and brake problems. These recalls were announced on June 10, 2020. Owners can check the National Highway Traffic Safety Administration's (NHTSA's) website for more information.
Ford Updates Previous Recalls Concerning Faulty Door Latches
The first recall affects 2.15 million select 2011-15 Ford and Lincoln vehicles. It updates a previous recall, in which faulty door latches were replaced or repaired by dealerships. In that recall, dealerships replaced defective door latches with latch pawl spring tabs that were susceptible to cracking and failure, particularly in areas with a combination of high outdoor temperatures and solar radiation.
A door latch with a fractured pawl spring may not latch or close properly. Should this occur, the door could unlatch or come open while in use, increasing the risk of injury to the driver and/or passengers/ Ford was reportedly not aware of any injury reports at the time of the recall.
Some of the door latches in the initial recalls may not have been replaced or correctly replaced, so Ford is updating those recalls to replace the latches again if needed. Owners should inspect the door latch date codes and child safety locks and submit them online to confirm if the repairs were completed under the prior recalls, or if they were completed correctly. The online system should reportedly tell owners whether their door latches are okay or if they need to be repaired again.
Owners can also simply take their vehicles into their local dealerships to have the door latches inspected. Reportedly, affected vehicles may include:
2011-14 models of Ford Fiesta
2012-15 models of Ford Focus
2013-14 models of Ford Fusion
2013-14 models of Lincoln MKZ
2013-15 models of Ford Escape
2013-15 models of Ford C-MAX
2014-16 models of Ford Transit Connect
2015 models of Ford Mustang
2015 models of Lincoln MKC
Ford should  notify owners and expects to begin recall repairs on July 20, 2020.
Ford Recalling About 300,000 Vehicles Due to Potential Brake Problems
The second recall affects nearly 300,000 select 2014-17 Ford F-150 vehicles equipped with a 3.5-liter EcoBoost engine. In the affected vehicles, the brake master cylinder may allow brake fluid to leak from the brake master cylinder front-wheel circuit into the brake booster. Should this occur, the vehicle will initiate several warnings, including an audible chime, message-center alert, and red brake warning indicator in the instrument cluster. Drivers may also notice a change in the brake pedal travel and feel.
If enough brake fluid is lost, it could reduce brake function to the front wheels, extending stopping distance and increasing the risk of a crash. Ford is aware of seven low-speed/low-impact accident allegations and two injuries associated with this issue.
Affected vehicles reportedly include:
Select 2015-17 Ford F-150 vehicles built at the Dearborn Truck Plant
Select 2014-17 Ford F-150 vehicles built at the Kansas City Assembly Plant
To fix the problem, dealers will replace the brake master cylinder and the brake booster, if the latter is leaking.
For more information, owners may call Ford customer service at 866-436-7332.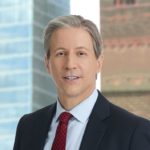 Exclusively focused on representing plaintiffs, especially in mass tort litigation, Eric Chaffin prides himself on providing unsurpassed professional legal services in pursuit of the specific goals of his clients and their families. Both his work and his cases have been featured in the national press, including on ABC's Good Morning America.