A Pittsburgh doctor is working on a new device to safely perform uterine surgery. According to the Pittsburgh Business Times, Dr. Pamela Moalli, an associate professor of medicine at the University of Pittsburgh and an assistant investigator at Magee-Womens Hospital of UPMC, received grant funding for the device along with another resident physician and professor.
Moalli said her device would help reduce the risk of spreading cancer among women who go through the surgical procedure. The device would not have motorized blades, and would "completely contain, then break up tissue into smaller pieces for removal."
UPMC hospital doctors decreased the use of power morcellation for uterine surgery shortly after the FDA advised doctors against using the procedure due to the risk of spreading cancerous tissues in April 2014.
The FDA found that one in 350 women had an unsuspected uterine sarcoma. The cancerous tissue could be spread by the power morcellator during uterine surgery and seed cancers in other areas of the body.
Johnson & Johnson stopped the sale of power morcellators after the FDA advisory was published. The device wasn't pulled from the market, but sales were "suspended" until more was known about the role the device played in treating uterine fibroids.
What are Uterine Fibroids?
Three out of four women of child-bearing age will develop a uterine fibroid. Some women won't have any symptoms and won't even know that they have one unless a doctor finds it during a routine examination. Other women will experience side effects that can be debilitating and have to seek medical treatment. Symptoms can include heavy menstrual bleeding, longer menstrual periods, leg pain and/or backaches, and changes in urination. Treatment for uterine fibroids can range from medications to other non-invasive procedures.
Fibroids can grow outside of the uterus, inside the uterine wall, or inside the inner cavity of the uterus.
There is no way to know for sure whether or not a woman has a uterine sarcoma before uterine surgery. The American College of Obstetricians and Gynecologists (ACOG), recommends that doctors conduct a "thorough" examination before using morcellation for uterine surgery. The examination should include checking for a family history of uterine sarcomas, medications or treatments that may cause them, uterine size and any uterine growth.
Morcellation and Cancer Risk
Dr. Amy Reed and her husband launched a campaign on change.org after she underwent fibroid surgery and developed Stage IV uterine cancer.
If you developed cancer after a power morcellator was used during your uterine surgery you may be entitled to compensation. Call a morcellation cancer attorney today for a free consultation.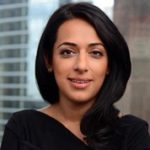 Exclusively focused on representing plaintiffs—especially in mass tort litigation—Roopal Luhana prides herself on providing unsurpassed professional legal services in pursuit of the specific goals of her clients and their families. While she handles complex cases nationwide on behalf of consumers, Ms. Luhana resides with her family in Brooklyn, New York.