The National Uterine Fibroids Foundation estimates that as many as 80 percent of women may have uterine fibroids, with one in four requiring treatment for them. Dr. Amy Reed, an anesthesiologist at Beth Israel Hospital in Boston, was one of them.
She agreed to undergo what was thought to be a routine procedure—hysterectomy with morcellation. Unfortunately, it turned out to be anything but routine for her, as a few days later, she was diagnosed with uterine cancer.
What is Morcellation?
First approved by the FDA in 1993, the power or electric morcellator is a surgeon's tool that cuts up tissues so they can be more easily removed through a laparoscopic tube. Morcellation allows surgeons to perform hysterectomies and other uterine surgeries through much smaller incisions, resulting in faster recovery, less blood loss, and less pain for patients.
Dr. Reed was aware of all these benefits when choosing to undergo the procedure, but she was not aware of one very serious risk—that of a secondary cancer.
FDA Calls for a Change
On April 17, 2014, the FDA warned that power morcellation, when used in hysterectomy and myomectomy (removal of fibroids only), could cause "unsuspected cancerous tissue, notably uterine sarcomas" to spread "beyond the uterus."
The problem is that when the morcellator breaks up tissues into little pieces, some of those pieces can be left behind during the procedure, and allowed to migrate into other areas of the body to seed new cancers. This is what happened to Dr. Reed.
She didn't know she had cancer. According to USA Today, doctors had run tests prior to the surgery, and they had all come back negative. There is no current test for uterine leiomyosarcoma, however—a rare cancer that invades the uterine wall and does not show up in tests.
"At this time," states the American Cancer Society, "there are no tests or exams to detect uterine sarcomas in women without symptoms."
Following her hysterectomy with morcellation, Dr. Reed was diagnosed with uterine cancer. Worse, allegedly, because the cancerous tissues had been spread via morcellation, the disease was diagnosed at the more serious Stage 4, instead of Stage 1, which it may have been had it stayed localized in the uterus.
Husband Starts Asking Questions
Dr. Reed's husband, Hooman Noorchashm, is a cardiothoracic surgeon. Following his wife's diagnosis, he started asking questions. The New York Times reports that he was horrified to learn that his wife's tissues had been minced up inside her body, being very well aware of the danger of doing that with cancerous tissues.
Dr. Noorchashm and his wife soon launched a campaign to spread awareness of the problem, and to get morcellation banned. "In fact, morcellating cancer spreads the cancer inside the woman's body," they state on their campaign for change. "A review of the literature reveals that 1 in 415 women who go for fibroid surgery actually has sarcoma."
These odds are much worse than what was previously believed. In fact, the FDA has now adjusted them to 1 in 350, and has planned a public meeting of the Obstetrics and Gynecological Medical Device Advisory Committee to consider additional action, including a potential "boxed warning" on power morcellators.
Dr. Reed has gone through additional surgeries to remove her appendix, gallbladder, ovaries, and other tissues, in an effort to remove the cancer, and has also endured extensive chemotherapy. She hopes to return to work in June 2014.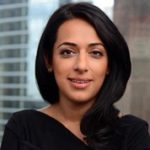 Exclusively focused on representing plaintiffs—especially in mass tort litigation—Roopal Luhana prides herself on providing unsurpassed professional legal services in pursuit of the specific goals of her clients and their families. While she handles complex cases nationwide on behalf of consumers, Ms. Luhana resides with her family in Brooklyn, New York.