The U.S. Centers for Disease Control and Prevention (CDC) reports that as of January 14, 2020, a total of 2,668 cases had been reported from across the country of individuals who have been hospitalized for e-cigarette, or vaping, product use-associated lung injury (EVALI), including 60 deaths.
The agency started following the epidemic last summer and has linked the majority of the cases to the use of products containing tetrahydrocannabinol (THC), the chemical responsible for most of marijuana's psychological effects.  To date, 82 percent of hospitalized patients reported using THC-containing products.
However, the CDC is investigating other chemicals in these products to determine if they may cause EVALI.  According to its January 24, 2020 Morbidity and Mortality Weekly Report, "evidence is not sufficient to rule out the contribution of other chemicals of concern…in some reported EVALI cases."
Several Toxins Exist in E-cigarette Vapor
According to the CDC's latest report, among 121 Illinois EVALI patients, 17 reported using only nicotine-containing products, including nine who and had not used any THC use, based on self-report or toxicology testing.  These patients were more likely to be over the age of 45 and female.
In addition to nicotine, there are other potentially dangerous ingredients in e-cigarettes, including ultrafine particles that can be inhaled deep into the lungs, flavorants such as diacetyl—which has been linked with serious lung disease—volatile organic compounds (VOCs), and heavy metals, such as nickel, tin, and lead.
Recent studies have identified the following toxins in mainstream or secondhand e-cigarette vapor:
Acetaldehyde
Cadmium
Formaldehyde
Isoprene
Lead
Nickel
N-Nitrosonornicotine
Toluene
All of these chemicals are known to cause cancer or reproductive toxicity.
CDC Identifies Vitamin E Acetate as the Culprit in Most—but Not All—Cases
The evidence suggests that most EVALI cases involve the use of THC-containing products that are also likely to have vitamin E acetate in them.  Though vitamin E is safe for use in topical lotions and ointments and as a supplement, it can be dangerous when inhaled.  It's sticky and honey-like, so when it's inhaled, it can interfere with lung function, causing the very symptoms that people with EVALI are likely to suffer, including shortness of breath, difficulty breathing, and coughing.
Vitamin E acetate is often added to THC-containing vaping solutions to help thicken or dilute them, though its use in this manner has already been banned by the state of Colorado—the first to approve the recreational use of marijuana—because of its potentially injurious effects.
National and state data from patient reports show that EVALI patients often got their THC-containing e-cigarette products from informal sources like friends, family, or in-person or online dealers.  Tests of patient lung fluid have been positive for the presence of vitamin E acetate, while no other toxicants were found.
Based on these findings, the CDC has advised the public not to use THC-containing vaping products.  Meanwhile, the CDC is continuing to investigate to see what other chemicals may be factors in the illnesses.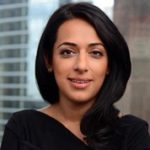 Exclusively focused on representing plaintiffs—especially in mass tort litigation—Roopal Luhana prides herself on providing unsurpassed professional legal services in pursuit of the specific goals of her clients and their families. While she handles complex cases nationwide on behalf of consumers, Ms. Luhana resides with her family in Brooklyn, New York.