A West Virginia woman has filed a new baby formula lawsuit against Abbott Laboratories. She filed the case in the U.S. District Court for the Northern District of Ohio.
She brings the complaint because of injuries suffered by her twin babies, who, after consuming Abbott's infant formula, suffered serious injuries.
Plaintiff's Twins Suffer NEC After Consuming Abbott Infant Formula
According to the complaint, the plaintiff gave birth to twins on July 10, 2022, at the MetroHealth Medical Center in Cleveland, Ohio. The twins were born prematurely. Doctors fed them Abbott's cow's milk-based formula (Similac and/or Enfamil) shortly after birth.
Shortly after they started consuming the Abbott infant formula, both of the twins developed necrotizing enterocolitis (NEC), a dangerous gastrointestinal infection. They continued to suffer several complications and injuries that ultimately led to the death of one of the twins and seriously impacted the health of the other.
The plaintiff believes that the Abbott formula caused her twins to suffer from NEC, and states that if she had known about the link between cow's-milk-based infant formula and NEC, she would not have allowed her babies to consume it.
Studies Link Cow's-Milk Formula with a Higher Risk of NEC
Necrotizing enterocolitis (NEC) is a bacterial disease that infects, inflames, and damages the baby's intestines. It can destroy the wall of the intestine and create cracks or gaps that allow bad bacteria to leak into the abdomen, worsening the infection and sometimes, leading to death.
NEC is rare overall, but studies have found that it's more common in premature infants fed infant formula. As early as 1990, for instance, a study published in The Lancet showed that in exclusively formula-fed babies, NEC was 6-10 times more common than in those fed breast milk alone, and three times more common in those who received formula plus breast milk. Yet Abbott failed to warn doctors or parents of this dangerous connection.
Later studies showed similar results. In 2011, Johns Hopkins Medical Institutions found that extremely premature babies fed human donor milk were less likely to develop NEC than those fed a standard premature infant formula derived from cow's milk.
In a 2019 Cochrane review, researchers found that feeding premature infants with formula was "associated with a higher risk of developing the severe gut disorder called 'necrotizing enterocolitis.'"
Scientists believe a premature infant's digestive system is not yet mature enough to protect against possible infection. While breastmilk can provide that protection while the baby grows, cow's milk doesn't contain the antibodies and other substances present in breastmilk that reduce the risk of infection.
Manufacturers Falsely Advertised Their Products as Safe for Preterm Babies
The plaintiff states that despite the evidence establishing the potential dangers of cow's milk to premature infants, the defendants marketed their products as safe alternatives to breast milk and promoted them as necessary for additional nutrition and growth.
"Defendants have specifically marketed their formulas and fortifiers as necessary to the growth and development of preterm infants," the complaint reads, "when instead, these products pose a known and substantial risk to these babies." She seeks both compensatory and punitive damages.
Meanwhile, the U.S. Judicial Panel on Multidistrict Litigation (JPML) consolidated all federally filed NEC infant formula lawsuits into the Northern District of Illinois for pre-trial proceedings.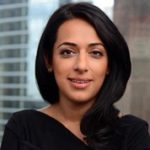 Exclusively focused on representing plaintiffs—especially in mass tort litigation—Roopal Luhana prides herself on providing unsurpassed professional legal services in pursuit of the specific goals of her clients and their families. While she handles complex cases nationwide on behalf of consumers, Ms. Luhana resides with her family in Brooklyn, New York.