Barringer Brothers Roofing, headquartered in Belleville, Illinois, was recently cited by the Occupational Safety and Health Administration (OSHA) for failing to provide fall protection for employees at a construction job site in Glen Carbon.
This isn't the first time the company has been warned about its disregard for employee safety. OSHA stated that Barringer's history of safety violations extends back to 2006, and that the company is currently in default on $267,900 in federal penalties.
Company Cited Repeatedly for Failing to Protect Employees from Fall Hazards
Back in 2010, OSHA fined Barringer Brothers Roofing $106,400 for failing to comply with fall protection standards.
OSHA inspected a residential construction site in April and June 2010, and issued three willful citations for a lack of fall protection. OSHA issued an additional six serious citations—three for not having an accident prevention program, and three for not training employees on how to prevent falls. OSHA also cited the company for a repeat violation for lack of a grasping handle and/or not having a ladder extended at least three feet above the work site.
This time, OSHA inspected another residential construction site in May 2016, where inspectors found five roofers working 13 feet up without adequate fall protection. OSHA also noted that employees were using nail guns without eye protection, that the site lacked fire extinguishers, and that there was no competent person regularly inspecting the site for safety hazards.
OSHA stated that the company has been cited a total of 19 times for failing to protect workers. In April 2016, the administration placed Barringer on its Severe Violator Enforcement Program because of repeated violations. This program enforces mandatory follow-up inspections.
OSHA Requires Companies to Provide Fall Protection
In the construction industry, falls continue to be the number-one cause of death. In the year 2014, out of 899 deaths in construction, 359 (39.9 percent) were because of falls. Other deaths were caused by electrocutions, being struck by an object, or being caught in between equipment or objects.
Falls also remain the most neglected hazard in construction work. OSHA states that between October 2014 and September 2015, the most frequently cited standards violations were for fall protection in construction work.
Employers are responsible for setting up the work place to prevent employees from falling off of elevated workstations or overhead platforms. OSHA requires that fall protection be used at elevations of four feet or higher in general industry workplaces, and six feet or higher in construction industry operations. Employees are also required to wear fall protection when working over dangerous equipment, no matter how high they are.
OSHA also outlines the steps employers are supposed to take to protect from falls. These include:
Place guards over floor holes
Add guard rails and toe-boards around every elevated platform
Provide safety harnesses and lines, safety nets, and stair railings and hand railings where needed
Employers also must keep floors clean and dry, provide protective equipment to their workers, and train employees on avoiding fall hazards. Employers that fail to comply with these requirements can be held responsible for employee injuries.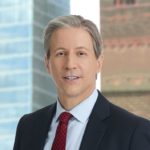 Exclusively focused on representing plaintiffs, especially in mass tort litigation, Eric Chaffin prides himself on providing unsurpassed professional legal services in pursuit of the specific goals of his clients and their families. Both his work and his cases have been featured in the national press, including on ABC's Good Morning America.