An Arkansas man has filed a new Roundup cancer lawsuit against defendant, manufacturer, Monsanto in the U.S. District Court for the Western District of Arkansas. He claims that after being exposed to Roundup and the active ingredient glyphosate, he developed non-Hodgkin's lymphoma (NAL).
This is one of the hundreds of similar Roundup cancer lawsuits that have been filed around the country. Plaintiffs allege that Roundup and its ingredients can increase the risk of certain types of cancer in humans.
Plaintiff Diagnosed with NHL After 20 Years Using Roundup
According to his complaint, the plaintiff began using Roundup in the early 1980s during his employment with the Arkansas Highway Department. He continued to use it on a regular basis for nearly twenty years. He adds that he always followed the safety and precautionary warnings.
In 2009, he was diagnosed with NHL, which is a cancer that starts in the white blood cells (lymphocytes). This type of cancer can spread to other parts of the lymph system, and eventually to the liver, brain, or bone marrow.
The plaintiff blames his NHL on his exposure to Roundup and states that Monsanto should have warned about cancer risks on the product label. He seeks compensatory and punitive damages.
Studies Link Roundup to Increased Cancer Risk
The California state Office of Environmental Health Hazard Assessment (OEHHA) recently announced that they were adding glyphosate, the active herbicide in Roundup, to their list of chemicals that can cause cancer. This would require Monsanto to add warnings about this risk to products sold in the state, but the company is fighting the change in court.
In March 2015, the International Agency for Research on Cancer (IARC) classified glyphosate as having "limited evidence of carcinogenicity in humans for non-Hodgkin lymphoma." They made this classification after reviewing evidence from both human and animal studies on the chemical.
The Environmental Protection Agency (EPA) has not yet changed the classification of glyphosate, but they are currently evaluating its carcinogenic potential.
Plaintiff Claims Other Ingredients in Roundup Exacerbate Risk
The plaintiff in this case also claims that other ingredients in Roundup, particularly surfactants, can exacerbate the risk of cancer. "In addition to the toxicity of the active molecule," he alleges in his complaint, "many studies support the hypothesis that glyphosate formulations found in Defendant's Roundup products are more dangerous and toxic than glyphosate alone."
In 2002, for example, researchers found that Roundup caused delays in cell cycles, while glyphosate alone did not. In 2004, they again found that it induced cell cycle dysregulation, noting that such dysregulation "is a hallmark of tumor cells and human cancer."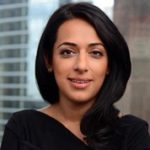 Exclusively focused on representing plaintiffs—especially in mass tort litigation—Roopal Luhana prides herself on providing unsurpassed professional legal services in pursuit of the specific goals of her clients and their families. While she handles complex cases nationwide on behalf of consumers, Ms. Luhana resides with her family in Brooklyn, New York.