Despite the fact that in November 2018, leading e-cigarette maker JUUL Labs announced it would temporarily stop selling most of its flavored nicotine pods for its e-cigarettes in retail stores, a new study says the action was too little, too late.
At the time, the manufacturer was responding to industry pressure at the time to limit vaping by teens. Additionally, in late 2019, in response to pressure from the public and the U.S. Food and Drug Administration (FDA), the company suspended sales of most of its untraditional flavors, including mango, fruit, and cucumber.
However, according to a recent study published in the American Journal of Public Health, JUUL's actions should have been taken sooner. Consumption of JUUL products remains high among young people and is still a concerning public health risk.
Banning Flavors Was Supposed to Curb Vaping Among Teens
According to a statement by the U.S. Surgeon General, the use of e-cigarettes among young people has become an epidemic: "The recent surge in e-cigarette use among youth, which has been fueled by new types of e-cigarettes that have recently entered the market, is a cause for great concern."
Indeed, e-cigarette use among U.S. middle and high school students increased 900 percent between 2011 and 2015 and increased 78 percent among high school students from 2017 to 2018.  The FDA has placed significant blame on JUUL Labs for that increase, noting that their vaping products are sleekly designed to look like high-tech flash drives and often contain more than the usual amount of caffeine—so they are more addictive than other types of e-cigarettes.
In January 2020, the FDA announced a ban on all fruit and mint-flavored vaping pods in the hopes of curbing use by teenagers.  Several studies have indicated that these are the flavors that draw young people into the habit of vaping in the first place.
In 2018, for instance, researchers reported that fruit flavors were the most commonly used among young people.  In 2019, scientists found that teens who vaped e-cigarettes in nontraditional flavors like fruit and candy blends were more likely to continue vaping into the future, and to take more puffs per vaping occasions, increasing their intake of nicotine.
It made sense, then, that eliminating these flavors might deter teens from vaping.  According to this recent study, however, that alone may not be working as well as regulators hoped.
Study Questions Results of Banning Fruit Flavored E-Cigarettes
For the study, scientists used Scantrack data on the sales of e-cigarettes in the U.S. from January 2015, right when JUUL was becoming popular, to October 2019, when the company stopped selling fruity flavors (in anticipation of the later FDA order).  They looked specifically at sales in five flavor categories:
Fruit
Menthol/mint
Sweet
Tobacco
Other
Results showed that the expansion of JUUL sales coincided with an expansion in fruit-flavor sales through October 2018.  Once JUUL temporarily reduced sales of fruit flavors at that time, menthol/mint became the most popular flavor.
Researchers concluded that after a decline in sales following the withdrawal of some flavored products, JUUL sales "recovered within weeks and surpassed their previous maximum in those same channels, as consumption shifted to the menthol/mint and tobacco flavors that remained on shelves."
In November 2019, about the same time it announced it would discontinue sales of fruity and sweet flavors, JUUL discontinued sales of its mint-flavored e-cigarettes and refill pods as well.  The company continues to sell menthol and tobacco-flavored products.
JUUL currently faces a growing number of lawsuits filed by plaintiffs that blame the company and its products for nicotine addiction.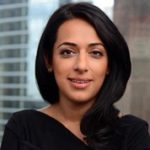 Exclusively focused on representing plaintiffs—especially in mass tort litigation—Roopal Luhana prides herself on providing unsurpassed professional legal services in pursuit of the specific goals of her clients and their families. While she handles complex cases nationwide on behalf of consumers, Ms. Luhana resides with her family in Brooklyn, New York.