Back in June 2021, the U.S. Judicial Panel on Multidistrict Litigation consolidated all federally filed paraquat lawsuits into one court in the Southern District of Illinois for pre-trial proceedings. Since then, both sides have been gathering evidence and working on preparing a few cases for early trials later this year.
During this time, the defendants filed several motions to dismiss, seeking to stop progress on many cases before it began. In a recent memorandum and order, District Judge Rosenstengel, who is overseeing the proceedings, ruled on these motions and set some deadlines for the parties as the litigation moves forward.
Paraquat Defendants Try to Get Some Cases Dismissed
The order, which was dated February 14, 2022, acknowledges several partial motions to dismiss filed by defendants Chevron U.S.A. Inc. and Syngenta, makers of paraquat. The defendants argued that many claims should be dismissed because they are time-barred by applicable state statutes of repose.
A statute of repose is similar to a statute of limitations, in that it limits the time a plaintiff has to file a claim. There are slight differences, however. A statute of limitations sets the maximum time after an injury within which a plaintiff may begin legal proceedings. A statute of repose bars actions after a certain amount of time has run from the occurrence of some other event rather than the injury.
Whereas a statute of limitations may be extended—particularly if a delay in commencing legal action is not the injured person's fault—a statute of repose is less flexible.
Specifically, defendants claimed that the plaintiffs' cases should be dismissed because their alleged paraquat exposure ended more than 10 years before they sued.
The plaintiffs argued, in turn, that the defendants fraudulently concealed the dangers of using paraquat, thereby tolling the statutes of repose. They added that since the defendants failed to warn that exposure to paraquat could cause latent neurological damage, potentially leading to Parkinson's disease, that prevented them from filing suit within the limitations period.
The judge addressed each state in turn when responding to these motions—in general, denying motions to dismiss based on statutes of repose.
The defendants also sought to dismiss plaintiffs' public nuisance, warranty, and consumer protection claims. The court agreed to dismiss the public nuisance and consumer protection claims but allowed others to proceed. That means that the majority of the plaintiff's claims will move forward.
Plaintiffs Allege That Exposure to Paraquat Increased Risk of Parkinson's Disease
To date, about 600 claims are pending in the consolidated paraquat litigation. Paraquat is an herbicide used since the mid-1960s to kill broadleaf weeds and grasses in fruit and vegetable fields, to control weeds in orchards, and to dry (desiccate) plants before harvest.
Plaintiffs in this litigation allege that they developed Parkinson's disease from exposure to paraquat. They say that the paraquat enters the human body through absorption through the skin, via inhalation, or by ingesting small droplets. Paraquat then enters the bloodstream and ultimately, the brain, where it allegedly causes damage to dopamine-producing neurons, leading to Parkinson's disease.
The plaintiffs point to several studies that have shown a connection between paraquat and Parkinson's, including studies finding a two- to five-fold or greater increase in the risk of Parkinson's in people with occupational exposure to paraquat compared to people without such exposure.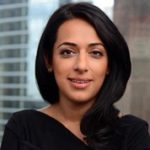 Exclusively focused on representing plaintiffs—especially in mass tort litigation—Roopal Luhana prides herself on providing unsurpassed professional legal services in pursuit of the specific goals of her clients and their families. While she handles complex cases nationwide on behalf of consumers, Ms. Luhana resides with her family in Brooklyn, New York.