On May 31, 2022, a North Carolina Marine Corps veteran filed a new lawsuit against several manufacturers of firefighting foams, including 3M Company, Chemguard, and Dupont. He claims that during his service at Camp Lejeune, a military base in North Carolina, he was exposed to toxic chemicals that caused him serious injuries.
Plaintiff Blames Camp Lejeune Contaminated Water for His Kidney Cancer
According to his complaint, the plaintiff joined the U.S. Marine Corps (USMC) and was subsequently stationed at Camp Lejeune military base in 1972. While he was there, he used the drinking water.
In 2017, the plaintiff was diagnosed with kidney cancer. He began his treatment for the disease at that time and will have to continue it on an ongoing basis. He also states that tests showed elevated levels of per- and polyfluoroalkyl substances (PFAS) in his system.
He discovered a connection between kidney cancer and PFAS in the summer of 2020. Before that, he did not realize that his illness could have been caused by his ingestion of contaminated water during his time at Camp Lejeune.
Now, he believes that water contamination at Camp Lejeune led to his kidney cancer diagnosis.
Manufactures Used PFAS When Making Firefighting Foams
PFAS are manmade compounds used in a multitude of industries for various purposes. In this case, the plaintiff refers to their use in aqueous film-forming foams (AFFFs) that are designed, manufactured, and sold as firefighting compounds. These compounds lower the surface tension of water to create a firefighting foam that smothers jet fuel fires.
Firefighting foams like these were frequently used at military bases to put out fires and during firefighting training exercises.
Manufacturers create AFFFs by mixing foaming substances with fluorinated surfactants (including PFAS), then mixing that resulting solution with water, which creates an aqueous film. They started using these chemicals in the 1960s, later discovering that the PFAS did not break down or degrade after their intended use. Instead, they persisted in the environment, eventually reaching water supplies.
The C8 Science Panel, which conducted studies on the potential health effects of PFOA (a type of PFAS) concluded that there was a probable link between exposure to PFOA and kidney cancer, as well as other issues like ulcerative colitis and thyroid disease.
Recently, manufacturers have agreed to stop using certain PFAS chemicals in their firefighting foams.
Manufactures Used PFAS When Making Firefighting Foams
In 2016, the U.S. Environmental Protection Agency (EPA) issued a formal health advisory finding that PFOA and PFOS (two types of PFAS) constituted a health hazard if found in drinking water at levels over 70 parts per trillion (ppt).
The plaintiff states that PFAS levels in the Camp Lejeune drinking water were much higher than that. The Department of Defense is testing hundreds of military sites around the country, including dozens in North Carolina, for contamination with PFAS.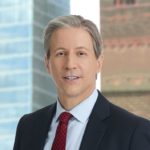 Exclusively focused on representing plaintiffs, especially in mass tort litigation, Eric Chaffin prides himself on providing unsurpassed professional legal services in pursuit of the specific goals of his clients and their families. Both his work and his cases have been featured in the national press, including on ABC's Good Morning America.