About thirty percent of all U.S. births are via C-section, many of them planned, but some are necessary because of complications during birth. When the mother is already in labor, the unborn child may show signs of distress. An attentive doctor will recognize these signs and perform a C-section if necessary. Unfortunately, if the doctor doesn't recognize the issues, the C-section may be delayed, resulting in devastating consequences to the child.
In September 2013, a Lehigh County, PA jury awarded $4 million to the family of a young girl who suffers cerebral palsy and neurological injuries. They determined the attending physician failed to perform a C-section when needed, causing the child's injuries.
Obstetrician Ignores Signs
According to court documents, Erin McCarthy had an ultrasound four days before she went into labor. The results showed that her baby, Chloe, weighed 10 pounds. Both Erin and her mother were concerned about the size, but the obstetrician reassured them that everything was fine.
It was August 2009 when Erin went into the hospital to deliver. After a short time, her labor stopped completely for eight hours. Expert witnesses at the trial stated this was an obvious sign that a C-section was needed, but the doctor allegedly ignored the signs and continued with a vaginal birth.
As the delivery went on, the doctor had to use forceps to assist when McCarthy could no longer push. Chloe's shoulder became stuck—a condition called "shoulder dystocia," when the shoulder becomes lodged under the mother's pubic bone. While the doctor worked to get her loose but she suffered 3.5 minutes of oxygen deprivation.
Jury Sides with Plaintiff
After the baby was born, she required resuscitation by the neonatal intensive care team, and then was rushed to the Thomas Jefferson University Hospital in Philadelphia. A procedure there reduced the damage to her brain, but she was still left with a mild form of cerebral palsy. Her mother, as well, suffered injuries that rendered her incontinent, and because of these injuries, was no longer able to work.
The doctor asserted that he and his team did nothing wrong, and that they handled the complications according to current standards of care. The jury disagreed, and awarded the family four million dollars. The doctor plans to appeal.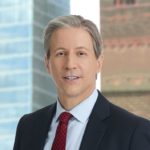 Exclusively focused on representing plaintiffs, especially in mass tort litigation, Eric Chaffin prides himself on providing unsurpassed professional legal services in pursuit of the specific goals of his clients and their families. Both his work and his cases have been featured in the national press, including on ABC's Good Morning America.