Surgery to remove uterine fibroids is considered fairly routine. Usually the fibroids are benign, and modern-day procedures employ small incisions and a laparoscopic tube to remove the tissues, resulting in a speedy recovery with minimal scarring.
For Philadelphia resident Donna Burkhart, however, it didn't go that way. She went through a minimally invasive hysterectomy that involved an electric or power "morcellator," and was later diagnosed with an aggressive cancer that took her life about a year later. Her husband, Scott, has brought claims against the manufacturer of that morcellator, claiming they failed to warn about the serious and life-threatening risks of using their device.
Power Morcellators May Spread Cancerous Tissues
The FDA recently released a safety communication warning that power morcellation, when used in a hysterectomy or myomectomy (removal of fibroids only), could cause "unsuspected cancerous tissue, notably uterine sarcomas" to spread "beyond the uterus." The machine cuts up larger tissues into smaller pieces that are easier to remove through the laparoscopic tube, making minimally invasive hysterectomies and myomectomies possible.
The way the procedure is currently done, however, potentially leaves some of those cut-up tissues behind. If the tissues happen to be cancerous—which is rare, but possible—they can migrate to other areas of the body and grow into cancerous tumors. The problem is that current screening techniques cannot always detect cancerous tissues in the uterine area, making it near impossible to accurately gauge risk before the surgery.
Widower Files Suit Against Morcellator Manufacturer
Scott Burkhart filed his power morcellator lawsuit in federal court in Philadelphia, according to a recent report at Philly.com. His wife went through a hysterectomy with a morcellator in March 2012. Prior to the procedure, she had no evidence of metastatic cancer. Neither was she warned about any risks of potentially spreading cancerous tissues into other areas of her body.
Donna was later diagnosed with metastatic leiomyosarcoma, which is an aggressive soft tissue cancer derived from smooth muscle cells typically present in the uterus. Also called uterine leiomyosarcomas (LMS), the disease usually spreads and causes symptoms before it is detected, as there are currently no screening tests or exams that detect it in women without symptoms.
Not Just Cancer—Advanced Stage Cancer
Women like Donna often have to face the fact that not only did the hysterectomy with the power morcellator potentially cause their cancer, but that it created a very serious situation where the cancer is at an advanced stage.
According to the American Cancer Society (AMC), staging is a process of analyzing how far the cancer has spread. Because of the way morcellation cuts up tissues, it creates an environment where they can migrate to other areas of the body, spreading to other organs and to lymph nodes, creating a stage III to IV disease that is difficult to treat. The AMC notes that the 5-year survival rate for stage III LMS is 28 percent, while stage IV is 15 percent.
FDA Warns Physicians Away from Power Morcellators
On April 17, 2014, the FDA released a warning discouraging physicians from using power morcellators when removing the uterus or uterine fibroids. They noted that recent studies had suggested the tools could pose a risk of spreading cancerous tissues beyond the uterus, and determined that about 1 in 350 women undergoing hysterectomy or myomectomy for fibroids "have an unsuspected type of uterine cancer called uterine sarcoma. If laparoscopic power morcellation is performed in these women, there is a risk that the procedure will spread the cancerous tissue within the abdomen and pelvis, significantly worsening the patient's likelihood of long-term survival."
Donna Burkhart passed away in February 2013, at the age of 53.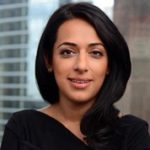 Exclusively focused on representing plaintiffs—especially in mass tort litigation—Roopal Luhana prides herself on providing unsurpassed professional legal services in pursuit of the specific goals of her clients and their families. While she handles complex cases nationwide on behalf of consumers, Ms. Luhana resides with her family in Brooklyn, New York.