While federal DePuy hip lawyers were looking ahead to the first federal bellwether trial scheduled to begin in Ohio in September 9, 2013 (now postponed), New Jersey is also preparing for the first trial to take place in the state's centralized litigation. With at least 650 cases pending in Bergen County, Judge Brian R. Martinotti scheduled the first bellwether trial to begin on January 13, 2014. Rather than just a single case, however, the trial will involve two lawsuits—one filed by plaintiff Barbara Gullo, and another filed by Kevin Coughlin and his wife, Kathleen.
Two Trials Completed So Far
So far, two DePuy ASR lawsuits have gone to trial in state court. The first, which took place in California, resulted in an $8.3 million verdict for the plaintiff, Loren Kransky. The second, which took place in Illinois, ended up with a verdict for the defense, DePuy Orthopaedics and parent company, Johnson & Johnson.
The federal MDL trial that was scheduled to begin on September 9th was to be the first federal bellwether trial, which is part of the MDL established in the Northern District of Ohio. Plaintiff Ann McCracken alleges she was implanted with the DePuy ASR hip device just months before the August 2010 recall. Less than two years later, she had to go through revision surgery to have it replaced.
New Jersey Plaintiffs Suffered Hip Complications
Both Gullo and Coughlin have brought similar claims against DePuy. Barbara Gullo, married and 72 years old, started having hip problems in the summer of 2008. She went through a total hip replacement surgery in December 2008.
After the surgery, she went back to work as a secretary. When DePuy recalled the ASR in 2010, doctors checked Gullo's blood chromium and cobalt levels, and found an elevated amount of both, indicating her hip device was fretting and corroding. She went through revision surgery in September 2011, and because of an infection, she had to go through a second revision surgery in October 2011. A month later, she suffered a heart attack.
Kevin Coughlin, married and 60 years old, went through total hip replacement surgery in June 2009. Initially, he recovered well, but by April 2011, he was experiencing significant pain. After learning of the ASR recall, he went through revision surgery. A blood test showed that he also had elevated levels of cobalt and chromium.
Both Gullo and Coughlin seek monetary damages for their injuries.
Defense Files a Motion to Separate the DePuy Hip Lawsuits in New Jersey
On July 11, 2013, the defendants submitted a motion to the court requesting the Gullo and Coughlin lawsuits be separated for trial. They argued that the cases should be tried individually because of the differences between them, which they argued would confuse the jury. The plaintiffs countered that the two share the same claims, including failure to warn, and both require a showing of the defendants' knowledge of the product's defects.
On August 13, 2013, Judge Martinotti ordered that the two cases proceed to trial together, stating that they share the same critical elements of the defendant's knowledge of the risks of the product, and have common questions of law and fact. He added that trying the two simultaneously will be more efficient for the court and reduce multiplicity of litigation, noting that even though there are factual differences between the plaintiffs, no two plaintiffs will have identical factual backgrounds in a medical and products liability setting.
"If courts were to deny consolidation based solely on factual differences that may affect causation, cases would never be consolidated," Judge Martinotti wrote.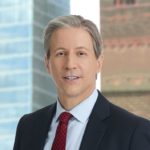 Exclusively focused on representing plaintiffs, especially in mass tort litigation, Eric Chaffin prides himself on providing unsurpassed professional legal services in pursuit of the specific goals of his clients and their families. Both his work and his cases have been featured in the national press, including on ABC's Good Morning America.