A recall announced in February 2017 could affect hundreds of patients who went through total shoulder replacement surgery.
Shoulder replacements manufacturer Zimmer recalled a total of 3,662 Zimmer Biomet Comprehensive Reverse Shoulder Humeral components because of higher than expected fracturing rates. These fractures could result in revision surgeries which, according to the FDA, could cause "serious adverse health consequences such as permanent loss of shoulder function, infection, or rarely, death." They classified the recall as a "Class I," the most serious type of medical device recall.
Patients who received this implant face an increased risk of fractures and shoulder implant failures, and it is expected that personal injury attorneys will be investigating potential liability lawsuits as a result.
Zimmer Biomet Shoulder System Meant for Patients with Rotator Cuff Tears
A shoulder replacement implant is much like a hip or knee replacement, in that it replaces a malfunctioning original joint. Patients who are experiencing pain and mobility problems because of arthritis or degenerative joint disease are often advised to undergo a shoulder joint replacement to help relieve pain and restore mobility.
The first shoulder replacements were designed to operate like the original shoulder joint, with a socket protected by a concave cover, a stem attached to the humerus or upper arm bone, and a ball attached to the top of the stem. The Zimmer Biomet Comprehensive Reverse shoulder replacement system, however, is a different type of implant that was developed later.
Patients who are suffering from severe rotator cuff tears often don't make out as well with traditional joint replacement surgery because they have difficulty restoring movement to the joint. The "reverse" replacement is designed to allow them to use different muscles to move the shoulder joint, thereby recovering more fully.
Instead of placing the ball at the top of the stem, the surgeon switches the positions of the socket and metal ball. The metal ball is fixed to the socket while the plastic cup is fitted onto the stem. This allows the arm to move using mainly the deltoid muscle, taking pressure off the rotator cuff.
Unfortunately, the Zimmer Biomet Comprehensive Reverse Shoulder didn't perform as expected.
Zimmer Biomet Comprehensive Reverse Shoulder Component Can Cause Dislocation
The part of the shoulder system that is at high risk of fracturing is the shoulder tray or "base plate" as it's sometimes called. This is the component that attaches directly to the shoulder blade, and to which the "ball" component is secured. There have been reports that the tray can fracture or break, which can then cause a number of problems, including pain, inflammation, immobility and even shoulder joint dislocation. The situation usually requires revision surgery to remove and replace the fractured component.
The affected components were distributed between October 2008 and September 2015, and may have been used in patients through the end of 2016. Zimmer Biomet advised healthcare professionals to identify and quarantine any affected devices in stock for removal back to Zimmer, but did not give any new patient monitoring instructions. Doctors were simply told to continue standard monitoring to watch for any symptoms of component fracturing.
Patients who received this implant and then went on to experience problems requiring revision surgery may be able to recover damages in court.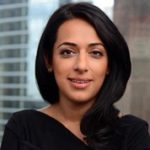 Exclusively focused on representing plaintiffs—especially in mass tort litigation—Roopal Luhana prides herself on providing unsurpassed professional legal services in pursuit of the specific goals of her clients and their families. While she handles complex cases nationwide on behalf of consumers, Ms. Luhana resides with her family in Brooklyn, New York.