The first of more than 10,000 DePuy ASR hip lawsuits went to trial in February 2013 and recently ended with an $8.34 million verdict for the plaintiff. Montana resident Loren Kransky filed his case in 2010, claiming the company was liable for making a defective product that later caused him severe pain and debilitating injuries.
After listening to days of evidence and witness testimony, a Los Angeles, California jury awarded Kransky $338,236 in economic and $8 million in non-economic damages. DePuy Orthopaedics stated it would appeal the decision.
Kransky Claimed DePuy ASR Defective
Kransky was implanted with the recalled DePuy ASR hip device in 2007. After the surgery, he claimed to experience serious complications, including severe pain, difficulty walking, and metallic poisoning. He eventually had to undergo risky revision surgery to have the device removed and replaced.
Thousands of other plaintiffs have made similar allegations involving the ASR device, claiming that the design is defective. The ASR is a metal-on-metal hip implant, placing a metal ball inside a metal socket. Studies have found that implants like these tend to shed small shards of cobalt and chromium into the surrounding tissues over time, creating inflammation, pockets of swelling, and even systemic metal poisoning.
On May 6, 2011, the FDA instructed all manufacturers of metal-on-metal hip replacement systems to conduct postmarket surveillance studies of these devices, to provide patients and healthcare practitioners with additional information about the safety of these implants.
DePuy's Own Records Indicated Design Flaw
According to court documents, DePuy and parent company Johnson & Johnson (J&J) knew about the critical design flaw years before they recalled the ASR. The New York Times reported that the model failed an internal test in 2007, yet DePuy continued to sell the product, and neglected to tell doctors about the results.
The Times adds that according to DePuy's internal estimates, the ASR is projected to fail within five years in about 40 percent of patients—eight times the failure rate of most orthopedic implants. The problem with the design, according to the company's records, was that the cup had limited surface area in which the ball could move, increasing the risk that the ball would rub against the cup, generating metallic debris.
Critics claim that had the DePuy ASR undergone clinical trials prior to market launch, these flaws would have been discovered. Instead, the implant was pushed through the FDA's fast-track 510(k) approval system, which required only that the company proved the device significantly similar to another device already on the market. Interestingly enough, the FDA denied approval for the similar DePuy ASR resurfacing device in 2009, stating concerns about the risk of metallosis.
Verdict May Open a Door to Future Settlements
DePuy ASR lawyers have been following this case with interest, and now have reason to be optimistic about future verdicts and potential settlements. The next case is scheduled to go to trial on March 11, 2013, in Chicago state court. The plaintiff, Illinois resident Carol Strum, claims she had a DePuy ASR hip implant inserted on January 29, 2008, and had to endure revision surgery three years later, on January 6, 2011.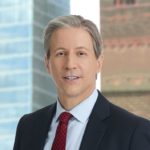 Exclusively focused on representing plaintiffs, especially in mass tort litigation, Eric Chaffin prides himself on providing unsurpassed professional legal services in pursuit of the specific goals of his clients and their families. Both his work and his cases have been featured in the national press, including on ABC's Good Morning America.