Johnson & Johnson is stopping the sale of power morcellators after the FDA news release that discouraged doctors from using the device for uterine surgery due to the risk of spreading cancer.  According to The Wall Street Journal, J&J started selling the devices in 1998 through its subsidiary Ethicon.
The company said that the devices always included cautions for doctors about the "potential spread of malignant tissue."
J&J said they are not "removing" the device from the market, but decided to "suspend' the sale of the device until the company learns more about the role a power morcellator plays in treating fibroids.
FDA Warns Against Morcellation
On April 17, 2014 the FDA warned doctors about using laparoscopic power morcellation during uterine surgery.
Laparoscopic power morcellation is minimally invasive and helps reduce bleeding, scarring, and can lead to a shorter recovery period for women who have their uterus or uterine fibroids removed.
It slices up uterine tissue so that smaller pieces can be removed through tiny incisions in the abdomen.
Uterine fibroids are not cancerous, but unfortunately 1 in 350 women have an unsuspected type of uterine cancer called uterine sarcoma that isn't detected before uterine surgery.  Laparoscopic power morcellation can spread cancerous tissue to other parts of the body.
As many as 3 out of 4 women will develop a uterine fibroid during their lifetime.  Some women won't experience any side effects, while others may experience several symptoms including longer menstrual periods, heavy menstrual bleeding, and backache and/or leg pain.
Fibroids can grow inside the uterine wall, outside of the uterus, or inside the inner cavity of the uterus.  There is no exact cause of uterine fibroids, but some doctors point to hormones, genetics, or outside substances.
Your doctor will be able to determine if you have a uterine fibroid and recommend the best form of treatment.  This is usually determined with an MRI, hysteroscopy, or using a dye or saline solution which highlights the uterine cavity through an x-ray.
Not all uterine fibroids require surgery; some can be controlled with the use of medications, or other non-invasive procedures.
If you developed a form of cancer after undergoing uterine surgery with the use of laparoscopic power morcellation, you should call a morcellation attorney today.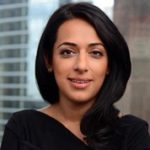 Exclusively focused on representing plaintiffs—especially in mass tort litigation—Roopal Luhana prides herself on providing unsurpassed professional legal services in pursuit of the specific goals of her clients and their families. While she handles complex cases nationwide on behalf of consumers, Ms. Luhana resides with her family in Brooklyn, New York.