A Louisiana man recently filed a new Exactech knee replacement lawsuit in the U.S. District Court for the Eastern District of Louisiana. He claims that after he was implanted with the device, he suffered serious injuries.
The plaintiff's knee replacement device included an insert that was recalled by Exactech starting in August 2021. (The company later expanded the recall.) The plaintiff seeks compensatory and special damages.
Plaintiff Implanted with Recalled Joint Insert
On August 30, 2021, Exactech notified doctors and healthcare centers about a possible problem with its polyethylene inserts. These are plastic inserts that fit between metal components in knee and ankle replacements to help cushion the joints. Sometimes called "shock absorbers," they serve as replacements for the cartilage in the joints. If these inserts fail, the joint replacement fails.
Exactech warned doctors that some of the inserts had been packaged in vacuum bags that "lacked an additional oxygen barrier layer." Without the proper protection, the inserts could be exposed to oxygen, which could cause the plastic to wear out earlier than expected or to become damaged after it is implanted into the patient's body.
Exactech recalled only certain inserts at first, but after additional testing, realized that most of the inserts manufactured since 2004 had been packaged in these non-conforming bags. So they expanded the recall to include all of them.
According to his complaint, the plaintiff underwent knee replacement surgery on his left knee on June 1, 2021. His surgeons implanted the Exactech device, which included the recalled insert. He initially seemed to recover after the surgery, but then began developing significant pain in his left knee and apparent loosening of the device within only a few weeks of the surgery.
His pain continued over the next several months despite following the physical therapy routine his doctor had recommended.
Plaintiff's Doctor Recommends Revision Surgery
Over a year after his surgery, the plaintiff was still having significant pain and instability in his left knee. He suffered from worsening pain and swelling and was unable to bear weight on his knee. He couldn't walk or exercise without pain and assistance.
The plaintiff's doctor recently told him that the only way to correct the problem and potentially alleviate the pain in his knee is to go through revision surgery. Revision surgery is performed to either fix a problem with an implant or replace it completely. It's riskier than the original surgery, takes longer, and is more complex.
The plaintiff plans to move forward with the surgery in the hopes of regaining some of his knee function and improving his quality of life.
Plaintiff Blames Exactech for Failing to Protect Patients
The plaintiff blames the defective nature of the Exactech insert for his knee pain and instability. Exactech noted in its letter to doctors that oxygen damage to an insert could "severely degrade the mechanical properties," which in conjunction with other surgical factors, could "lead to both accelerated wear debris production and bone loss, and/or component fatigue cracking/fracture, all leading to corrective revision surgery."
The plaintiff states that the defendant knew or should have known that its products could be defective, yet the company "engaged in a campaign of misinformation wherein any incidents of early failures were blamed on surgeons or patients rather than the defective tibial insert."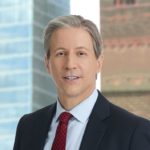 Exclusively focused on representing plaintiffs, especially in mass tort litigation, Eric Chaffin prides himself on providing unsurpassed professional legal services in pursuit of the specific goals of his clients and their families. Both his work and his cases have been featured in the national press, including on ABC's Good Morning America.