An Illinois woman recently filed a new hair relaxer lawsuit in the U.S. District Court for the Northern District of Illinois. She claims that after using products such as Dark & Lovely, she suffered from serious injuries. She seeks compensatory and punitive damages against the makers of these products, including L'Oréal USA, Inc. and Softsheen-Carson LLC.
Plaintiff Uses Hair Relaxing Products for Decades—Then Diagnosed with Uterine Cancer
According to her complaint, the plaintiff first started using hair relaxing or straightening products in 1988. She applied the products herself or had a professional at a hair salon apply them. She and the professional both followed the defendants' product instructions, leaving the products on her hair for the time allotted.
She continued to use the products regularly over the years. She claims that there was never any indication on the products' packaging or otherwise that this normal use could cause health problems.
In October 2021, the plaintiff was diagnosed with uterine cancer. She states that she has no family history of this disease. She had to undergo a full hysterectomy on January 3, 2022. Following this procedure, she has had to keep mandatory medical appointments every three months and continues these appointments to this day to monitor her condition.
As a result of her illness and treatment, she has lost her ability to have children and suffered extreme pain and emotional distress. She blames her condition on her long-term use of hair relaxing and hair straightening products.
Hair Relaxing Products Contain Potentially Harmful Chemicals
Hair relaxing products are creams or lotions marketed to "tame" ethnic hair by making it smoother, straighter, and easier to manage on a daily basis. The products are applied to the base of the hair shaft and left in place for a "cooking" interval. During that time, they alter the hair's texture by purposefully damaging the hair's natural protein structure. This helps straighten and smooth the hair.
Maintaining a relaxed hairstyle requires the ongoing application of hair-relaxing products to the new hair growth. This is necessary about every four to eight weeks. These products can cause burns and lesions on the scalp, which can facilitate the entry of chemicals into the body.
The plaintiff notes that these products typically include endocrine-disrupting chemicals (EDCs), which interfere with the natural hormone system. Phthalates, for instance, are plasticizing chemicals that help the products stick to and penetrate the hair shaft. One such phthalate called di-2-ethylhexylphthalate (DEHP) has been linked in animal studies to reproductive dysfunction and various cancers.
Research Links Frequent Use of Hair Relaxing Products to Uterine Cancer
Recent research has associated the frequent use of hair relaxers with uterine cancer. The plaintiff points to these studies as evidence to support her claim.
In a 2022 study, for example, researchers found that women who had used straightening products in the previous 12 months were almost twice as likely to have developed uterine cancer than those who didn't. Those who used them more than four times in the previous year were about 2.5 times more likely to develop uterine cancer.
On February 6, 2023, the U.S. Judicial Panel on Multidistrict Litigation (JPML) sent all federally filed hair relaxer lawsuits to the Northern District of Illinois for pretrial proceedings.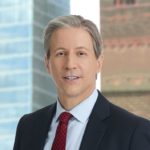 Exclusively focused on representing plaintiffs, especially in mass tort litigation, Eric Chaffin prides himself on providing unsurpassed professional legal services in pursuit of the specific goals of his clients and their families. Both his work and his cases have been featured in the national press, including on ABC's Good Morning America.