On October 7, 2022, the U.S. Judicial Panel on Multidistrict Litigation (JPML) ordered all federally filed Exactech joint lawsuits to be centralized in the Eastern District of New York. The Honorable District Judge Nicholas G. Garaufis was appointed to oversee the proceedings.
Before that, over 50 Exactech joint lawsuits were centralized in Florida state court in Gainesville, Alachua County, where Exactech has its headquarters. Judge Donna Keim is overseeing that litigation. She recently released a court order noting that the first trial there will begin on November 6, 2023.
Exactech Recalls Knee, Hip, and Ankle Joint Replacement Components
On August 30, 2021, Exactech issued an urgent warning to physicians about a possible problem with its polyethylene inserts. These plastic inserts fit between the metal components in knee and ankle replacements to help cushion the joints. If the inserts fail, the joint replacement fails.
The company told healthcare providers that some of its polyethylene inserts had been packaged in non-conforming bags that "lacked an additional oxygen barrier layer." This could increase the risk that the insert would be exposed to oxygen, which could cause the plastic to wear out earlier than expected or to become damaged after it is implanted into the patient's body.
After additional testing, Exactech announced that all of its knee and ankle arthroplasty polyethylene inserts produced since 2004 had been packaged in these non-conforming bags. They recalled all of these inserts at that time, which affected over 140,000 Optetrak, Optetrak Logic, and Truliant knee replacement systems implanted in patients, plus 1,500 similar components used in Exactech Vantage ankle replacements.
Exactech has also issued recalls for more than 130,000 hip replacement systems that included a Connexion GXL liner, which had also been found to suffer from premature wear.
Exactech Recalls Knee, Hip, and Ankle Joint Replacement Components
Following these recalls, many plaintiffs came forward to file Exactech joint lawsuits. They all claim to have been injured by the faulty components and seek compensation for the excess medical costs associated with risky revision surgeries.
As the federal Exactech litigation is still new, we haven't yet heard when the first trial may take place. But the Florida state litigation has been going on for about a month longer. Judge Keim, in her recent order, noted that the court will conduct monthly, one-hour case management conferences, which started on September 23, 2022.
She also identified the first case to go to trial and scheduled that first trial for November 6, 2023. The plaintiffs in that case allege problems with the GXL hip liner. This is likely to be the first Exactech case to go to trial anywhere. Parties will watch it closely to see how the jury will react to the evidence.
Exactech Joint Replacements Have Higher-Than-Normal Failure Rates
Exactech knee and hip implants have failed as early as three or four years after implantation in many of those individuals who have filed lawsuits against the company. Typically, a hip or knee replacement should last 20 years or longer.
Patients with failed Exactech implants suffer from damage to their bones (osteolysis), loosening of the replacement device, difficulty walking, and pain.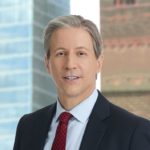 Exclusively focused on representing plaintiffs, especially in mass tort litigation, Eric Chaffin prides himself on providing unsurpassed professional legal services in pursuit of the specific goals of his clients and their families. Both his work and his cases have been featured in the national press, including on ABC's Good Morning America.