Risperdal is approved by the FDA to treat irritability in children and young adults with autism.  The FDA first approved this use in 2006 and was the first drug used to treat behaviors associated with autism.
At that time, the FDA released results from controlled-trials which found that children on Risperdal showed improvement for some behavioral symptoms versus those on the placebo.
The side effects reported by the FDA included weight gain, constipation, drowsiness, and fatigue.
What is Autism Spectrum Disorder?
There are over 2 million people affected by autism spectrum disorder (ASD) across the U.S. It is a common term for "complex disorders of brain development."  This can affect motor coordination, attention, intellectual disabilities, and/or physical health issues.
It is important to note that those "on the spectrum" are affected by the disorder in different ways.  The disorder is more common among boys than girls.
It's not entirely clear what causes autism spectrum disorder, and there is no one single cause.  Research shows that environmental factors such as illness during pregnancy, and genetic factors, such as mutations can both contribute to different types of autism.  Women can help reduce this risk by getting enough folic acid before and during pregnancy.
Doctors recommend different types of treatment for autism including occupational and physiotherapy, psychological help, speech therapy, and drug treatment if necessary.
 
Risperdal Linked to Serious Side Effects
Several studies have linked Risperdal to serious side effects.  A study by Duke University in 2006 showed that adolescents who took the drug showed higher levels of "prolactin" which is a hormone that stimulates breast development in women.
Another study in 2007 found similar results, with a four-fold increase in prolactin levels in children.  The Wall Street Journal reported on cases of breast development among men in a 2008 article.
Then, in 2009, a study in the Journal of Child and Adolescent Psychopharmacology found that increased prolactin levels continued for about two years after treatment.
If your child was or is on Risperdal and experienced any adverse side effects you may be entitled to compensation.  You should contact a Risperdal attorney today.
Never stop or start taking Risperdal unless instructed to do so by your physician.  Only a doctor will be able to determine if you are experiencing side effects as a result of taking Risperdal.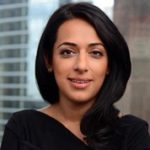 Exclusively focused on representing plaintiffs—especially in mass tort litigation—Roopal Luhana prides herself on providing unsurpassed professional legal services in pursuit of the specific goals of her clients and their families. While she handles complex cases nationwide on behalf of consumers, Ms. Luhana resides with her family in Brooklyn, New York.