Janssen Pharmaceuticals and parent company, Johnson & Johnson, have been named as defendants in a number of lawsuits concerning the anti-psychotic drug, Risperdal (risperidone). Plaintiffs claim the companies failed to provide adequate warnings about serious side effects like abnormal breast growth in boys and type 2 diabetes.
These claims involve cases where young people took Risperdal to treat schizophrenia, autism, and bipolar disorder. But what if mothers took Risperdal before the child was even born? Could the medication have adverse effects on the fetus?
That's what a group of physicians are trying to find out.
Anti-Psychotics Safe During Pregnancy?
Currently, no psychotropic drug is approved for use during pregnancy. Yet according to a 2013 study, the use of these medications in pregnant women has increased dramatically in recent years. More specifically, the study found a 2.5-fold increase in the prevalence of antipsychotics prescribed to expectant mothers. Whereas they used to be prescribed for schizophrenia and related psychotic disorders, now they are also likely to be prescribed for bipolar disorder and even depression.
Is this a safe practice? Studies cast doubt on the question. In 2010, scientists from the University of Copenhagen looked at data gathered between 1998 and 2007, which showed that psychotropic medications like Risperdal were associated with 429 adverse drug reactions in children under the age of 17. After examining those 429 cases, they found that more than half involved serious birth defects, such as deformities and severe withdrawal syndromes.
In response to the growing concern and lack of data, the Women's Mental Health Center at Massachusetts General Hospital founded the National Pregnancy Registry in 2008, an organization dedicated to evaluating the safety of antipsychotic medications taken by women during pregnancy.
The registry encourages doctors to submit patient information involving drugs like Risperdal, as there is a need for more data to better understand the risks.
Balancing Risk of Birth Defects with Risks Associated with Mental Disorders
In August 2013, researchers published a study in the Journal of Clinical Psychopharmacology showing that women exposed to atypical antipsychotics like Risperdal had a twofold higher risk of giving birth to a child with birth defects, particularly cardiac malformations, than women who didn't take these drugs during pregnancy. Babies who had been exposed to the drugs were also at a higher risk of postnatal disorders.
The researchers pointed out that heart defects are among the most common of all defects, and that more research is needed to clarify any connection. Thus the National Pregnancy Registry continues to gather data. Meanwhile, the issue remains difficult, as the only alternative for some patients is to suffer with the mental disorder without the medication.
Hundreds of Risperdal Lawsuits Pending
Currently, over 400 Risperdal lawsuits have been filed against the manufacturers. Johnson & Johnson has already agreed to settlements in at least five of the cases. In November 2013, they also agreed to pay $2.2 million to resolve allegations involving the overpromotion of the drug to vulnerable populations.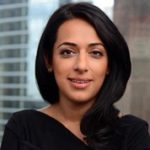 Exclusively focused on representing plaintiffs—especially in mass tort litigation—Roopal Luhana prides herself on providing unsurpassed professional legal services in pursuit of the specific goals of her clients and their families. While she handles complex cases nationwide on behalf of consumers, Ms. Luhana resides with her family in Brooklyn, New York.