Arkansas Attorney General Dustin McDaniel wants the Arkansas state Supreme Court to "reconsider its decision" in the case against Johnson & Johnson and its subsidiary Janssen Pharmaceuticals, Inc. over Risperdal.  According to an article in The Washington Times, the state claimed J&J and Janssen marketed Risperdal for off-label use and did not "properly communicate" the risks of the drug.
In March 2014, the Arkansas Supreme Court threw out a $1.2 billion judgment against J&J and Janssen.  It ruled that the state "misapplied the Medicaid fraud law in its suit against Johnson & Johnson and a subsidiary."
Arkansas sued both J&J and Janssen in 2007.
Now, Attorney General McDaniel said he plans to file a petition asking the court to revisit the ruling in March.
In November 2013, J&J and Janssen were ordered to pay $2.2 billion in one of the largest healthcare fraud settlements in United States history.  Allegations against Janssen claimed the company promoted Risperdal for use in patients with dementia, which is not an FDA-approved use.  The company is also accused of promoting Risperdal for the treatment of mental disabilities in adults and children.  The complaint alleged that J&J and Janssen knew about the health risks associated with the use of Risperdal among children, but promoted it anyway.
Risperdal Use & Serious Side Effects
Research from Duke University Medical Center and the FDA pointed to a possible link between pituitary tumors and the use of antipsychotic drugs such as Risperdal.  The study appears in a June 2006 issue of Pharmacotherapy.  Some of the side effects reported to the FDA at that time included reports of increased levels of prolactin, production of breast milk in adults and children (both male and female), and male breast development.  According to P. Murali Doraiswamy, M.D., a co-author of the study, "all reported side effects were most strongly associated with risperidone."
Another study in 2009 found that even after patients stopped Risperdal treatment for two years, their prolactin levels remained elevated for teens and children.
Risperdal was first approved for use in 1993 to treat adults with schizophrenia.
You May Have a Case
If you or a loved one suffered or are suffering a serious side effect after using Risperdal you could be entitled to compensation.  You should contact a Risperdal attorney today.
Remember to always consult your doctor before starting or stopping any prescription treatment.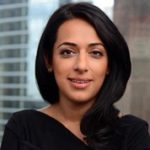 Exclusively focused on representing plaintiffs—especially in mass tort litigation—Roopal Luhana prides herself on providing unsurpassed professional legal services in pursuit of the specific goals of her clients and their families. While she handles complex cases nationwide on behalf of consumers, Ms. Luhana resides with her family in Brooklyn, New York.