A North Carolina retired U.S. Marine recently filed a Camp Lejeune lawsuit on behalf of his daughter, who died from leukemia in 1985. He claims that the contaminated water at Marine Corps Base Camp Lejeune caused his daughter's cancer and seeks recovery under the Camp Lejeune Justice Act, which was signed into law in August 2022.
Retired U.S. Marine Files Claim Under Camp Lejeune Justice Act
The Camp Lejeune Justice Act of 2022 grants those who were exposed to contaminated drinking water at the Marine base between August 1, 1953, and December 31, 1987, a two-year window to file claims for damages against the United States Government.
The plaintiff claims that his daughter resided or was otherwise exposed for not less than 30 days during the appointed time to water at Camp Lejeune. At that time, the water was polluted and contaminated with hazardous chemicals including vinyl chloride and benzene, both of which are classified as human carcinogens.
The plaintiff's daughter was later diagnosed with multiple serious life-threatening illnesses, including leukemia, and died on a date before the enactment of the Camp Lejeune Justice Act.
After the Act was passed, the plaintiff filed an administrative claim on behalf of his daughter with the United States Navy, as he was required to do. The Navy denied the claim or failed to dispose of it within six months of the date of filing, so his case has now moved to the U.S. District Court for the Eastern District of North Carolina, where all such cases will be handled.
U.S. Government Escaped Liability for Years
It is now known that for decades, the water at Marine Corps Base Camp Lejeune was contaminated with toxic chemicals known to cause cancer and other chronic and often deadly diseases and conditions. Hundreds of thousands of service members, their families, and civilian employees drank, bathed in, cooked with, and swam in the water.
Thousands of those people have now contracted serious diseases and chronic conditions, but have been unable to attain compensation because the U.S. Government failed to act. The truth about the water emerged in the early 2000s, but for years the government escaped liability by invoking North Carolina's ten-year statute of repose—which barred all claims after the statutory period ran out.
Plaintiff Has Long Advocated for Victims' Rights
The plaintiff has long advocated for other victims like him. In 2012, Congress enacted the Honoring America's Veterans and Caring for Camp Lejeune Families Act. Title I of the statute is named in honor of the plaintiff's nine-year-old daughter, who allegedly died of cancer she developed from exposure to the water at the camp.
This part of the act provided that veterans and their families, including babies who were in utero, who served or resided at Camp Lejeune for at least 30 days between 1957 and 1987, hospital care and medical benefits for 15 specified illnesses or connections. These included leukemia.
In January 2017, the U.S. Department of Veterans Affairs established that veterans exposed to contaminated water at Camp Lejeune were entitled to certain disability benefits. But veterans couldn't get other forms of compensation, and nonservice members were left out.
With the passing of the Camp Lejeune Justice Act, all victims now have a way to seek relief in court.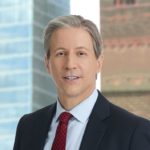 Exclusively focused on representing plaintiffs, especially in mass tort litigation, Eric Chaffin prides himself on providing unsurpassed professional legal services in pursuit of the specific goals of his clients and their families. Both his work and his cases have been featured in the national press, including on ABC's Good Morning America.